Table of Contents
Introductions
Increasing space on your Windows server 2003 is much easier than you think. Only a few people know how to increase or add space to C Drive on Windows server 2003, and even fewer people know how to make the process very easy. The most interesting thing about all of this is that you can indeed carry out this operation without having to lose any part of your data. Data loss has always been the overriding fear with users wanting to increase the space on their C Drive. With IM-Magic Partition Resizer Server edition, you have nothing to worry about when it comes to this. You can trust the software to get the job done.
What Takes Up Space on C Drive
No matter how large your C Drive may be, with constant use over the time, it will get filled up. There are so many things that up space quickly on the C Drive. The first that does are heavy media files. Media files are always in large sizes, and whenever they sit on your C Drive, they eat so much space. If you are looking forward to managing your space, you should decrease the number of media files your store on your C Drive.
Other things that take up space are deleted files. Some people think that when they delete files off their system, they entirely go. No, they don't. Rather, they go into your recycle bin and stay there and keep taking up space. The fastest way to entirely get them off your C Drive is to go empty your recycle bin. An uncommon way that your C Drive filled up is through caches, cookies, and redundant app files. You should clear your C Drive of those to free up space.
Why Add Space to C Drive
There are so many reasons for wanting to add space to your C Drive. However, one takes a premium over the rest. If your C Drive is full, your system operation could be affected. Exhausted C Drive has been known to make Windows operation drag and become sluggish. Also, your applications may not run well. And if care is not taken, your system may altogether crash out.
How to Add Space to C Drive on Windows Server 2003 Using IM-Magic
Adding space to your C Drive on Windows Server 2003 is a whole easy and data protection guaranteed with IM Magic Partition Resizer Server Edition. Using IM-Magic will ensure that your data is safe all through the process of adding space to the C Drive.

First, download the IM-Magic software and run the application. Make a right click on the drive close to the C Drive that has free space and click "Resize/Move". Then shrink some space of that drive to create some space. Then go click on the C Drive and move that freed space to it by choosing the "Resize/Move" option. Finalise the operation by clicking Apply.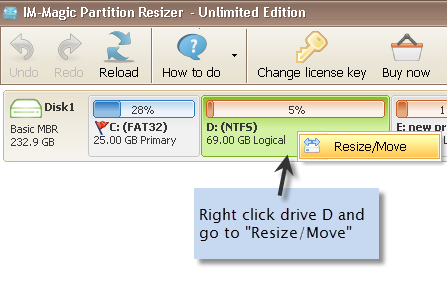 Extend Partitions with IM-Magic Partition Resizer
[Guide] Steps to extend volume without data loss

This step by step guide will show you the right way to extend any volume using  IM-Magic Partition Resizer Unlimited edition.
Step-1  Download install, and launch the program.
Step-2 Right click the large volume to produce unallocated free space.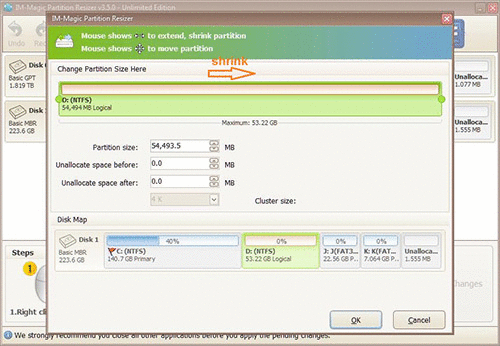 Steps to resize your disk partition
Step-3  Then right click c and drag the border to acquire the free space.

Steps to resize your disk partition
Step-4 Apply the changes.