Summary
C drive run out of space in Windows server sbs 2012 r2? Don't worry, this article will show you how to add space to c drive without data loss
How to Add Space to C Drive on Windows server 2012
Low disk space in system partition has always been a major issue in Windows Server 2012 R2 and its newer versions. With the advanced updates and office-oriented special features it provides, these updates also start to consume a lot of GBs in c-drive after a certain period. As a result, users of server 2012 R2 often suffers from "Low Disk Space" issues. Low disk space in any of the partition can result in accumulation of viruses, programs crashing, and slow system. Therefore, it is necessary to add space to c-drive in Windows Server SBS R2.
No matter if you are using Windows Server 2008 up to windows server 2016, the partition management utilities and disk management almost follow the same instructions. Follow this post and I will show you how to add space to c-drive server SBS 2012 R2.
Extend C Drive with Disk Management
As discussed earlier, disk management system software can help you shrink and separate unallocated space from another partition with plenty of free space. You can simply open the Disk Management Software, find the data partition you want to extend and separate the free space from it.
This free space will be considered as unallocated space and is often grayed out. Note that you cannot extend c-drive unless the unallocated space is placed right next to it. Therefore, extending c-drive using Disk management when the unallocated space is not placed adjacent to c-drive can be risky. You may lose data, crash the OS, or damage the partition.
Your first preference to add space to c-drive should be a third—party dedicated partition resizer software.
Add Unallocated Space to c-drive Server SBS 2012 R2
IM-Magic Partition Resizer server lets you extend partition without losing any data. You can shrink, extend, delete, format, create, and manage unallocated space using IM-Magic without any risks. Follow the steps to add space and extend c-drive using IM-Magic Server Edition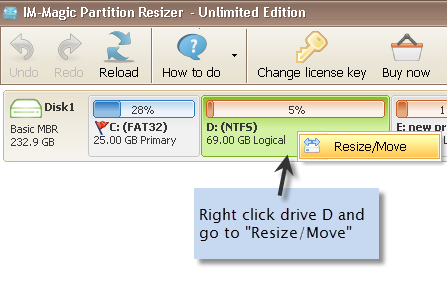 Resize partition with IM-Magic Partition Resizer
[Guide] Steps to extend volume without data loss
This step by step guide will show you the right way to extend any volume using  IM-Magic Partition Resizer Unlimited edition.
Step-1  Download install, and launch the program.
Step-2 Right click the large volume to produce unallocated free space.

Steps to resize your disk partition
Step-3  Then right click c and drag the border to acquire the free space.

Steps to resize your disk partition
Step-4 Apply the changes.
Adding space to c-drive using Disk Management can be critical. On the other hand, IM-Magic is 100% safe with RollBack Technology. The critical system files and OS is completely untouched during the whole process. In case of further questions or suggestions, feel free to leave a reply below.