Summary
If you want to extend C drive on your Windows server 2008 r2, you may find Disk Management not working sometimes, now we will introduce some more effective solutions here to help you.
How to Extend C Drive on Windows server 2008
The Most common problems of using WINDOWS is the unwanted installation of software or programs throughout the time and most of them which we don't want on our system as well. So, your drive where WINDOWS is installed (most likely to be Local Disk C:) starts filling up and ultimately reaches red. If you don't keep an eye, the situation could escalate and finally, there will be no more space left to use on Drive C: The result? No more WINDOWS updates and installation of any kind. Then, you wonder what could be done? You start uninstalling various programs and software and cleaning up your data, the system gets a little stable but it isn't a permanent fix.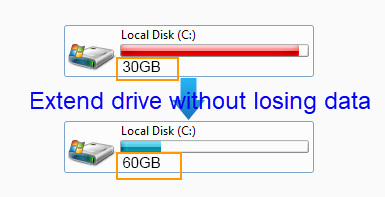 Easy fix extend C drive on Windows server 2008
If you cannot extend c drive with disk management extend volume, an easy fix to this specific problem is the use of Disk Management software like IM-Magic Partition Resizer SERVER edition, a tool which is designed and tested by the experts, capable of executing any command regarding disk management. With this incredible program on your side, you can extend C drive without ever losing your important data and without spending too much of your time.
IM-Magic Partition Resizer Server meets the needs of all brands of Windows Server2000/2003/2008/2012 32&64bits.

Why I Choose IM-Magic Partition Resizer Server
Of course, you could use disk management to do this work, but ultimately you can't extend c drive window server 2008 or other server edition of windows and would end up losing your data or formatting the whole drive and all your hard work and essential database have gone like that.
IM-Magic Partition Resizer never destroys your files and other important things under any circumstances, you don't need to worry, it's effective and 100% tested.

Increase Disk Space on C: using IM-Magic Partition Resizer SERVER edition
In order to do it perfectly without the error message like "unable to extend C drive server 2008" you first need to download the software and launch it as an administrator. Now follow the instructions given below:
Step 1:
After the disk map appears on your screen, simply right click on the volume that has a lot of free disk space and goes to "Resize/move"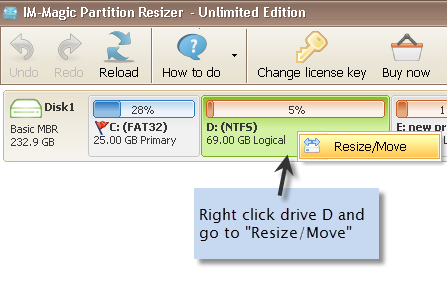 Step 2:
Now as you move the pointer over the area, you would see two-faced black arrows, start stretching them rightwards until you reach the disk space you want to allocate to be added in Drive C: Now, the selected area will appear as free disk space.

Steps to resize your disk partition
Step 3:
Now right click on C: drive and go to "Resize/move."
Step 4:
Now you will see the free disk space close to the boot drive. Now extend the C drive rightward when the mouse shows the arrows and APPLY changes.

Steps to resize your disk partition
IM-Magic Partition Resizer server is a user-friendly, but robust and reliable Window-based PC and Server partition manager software, which enables you to safely shrink, resize, extend, and move partitions without formatting or losing any data. It is a straightforward method to fix the "low disk space on C: or Unable to extend Volume server 2008" issues.
Save your time and energy, download the free copy of your software now and enjoy.
For more information and questions, you can stop by our website any time: