Summary
If your C drive and resize partition , you may have some problems on the computer, for example, you will find your computer run slower and slower, but don't worry, this article will introduce some very useful solutions to extend C drive and how to resize disk space, then the use of IM-Magic Partition Resizer SERVER edition on extending the partitions.
C drive full
Wandering why C drive is full, you performed the basic steps to release space.But still not sure why the drive is getting full.
C drive full after Windows update:
You installed new windows update and then you find your C drive full. Generally, operating system deletes all the required temporary files which it copies to perform windows update after system restart.Sometimes it does not clear the files and they remain their on C drive.
How to clean up and free up space on Windows 10:
1.Empty your recycle bin: Deleted files remain on recycle bin and you must delete them to release space if you think that none of them are required to be restored.
2.Clear Internet history and cache files: You can clear all these files or you can specify time till when you want to delete.
3.Delete files form profile directory: Go to run, type %TEMP% and press enter. This will take you to profile temp directory, delete all the files from there.
4.Remove the temporary files generated by your installed programs.
5.Run the disk cleanup and release space. Most of the above cleanup tasks can be done from disk cleanup tool in one go.
6.Uninstall and remove unnecessary software and files. We keep installing and testing new software however some of them we do not need any longer. There are files,images and videos,sometimes more than one copy lying on your disk and we do not require them. We can simply delete these files. They occupy large space of your hard disk over a period of time.
7.Run your Antivirus and check for viruses in your drives. Some viruses sit on your computer and eat up your space.
8.You can change or move the space allocated to Virtual memory to different drive. The virtual memory is used when your RAM is not enough to run your application.
9.Another good option to gain space is change the size and path of your recycle bin.
C drive is still full even after deleting the files:
Today's programs are large in size and need space to get installed and run. These programs are made large e to give you good results. This is a common problem that everybody faces and by performing few advance but simple steps you can overcome this situation. These advance steps are very simple and does not require you to be expert.
This is recommended to have enough space allocated to your C drive when you create a partition during OS installation. This is the drive where you install your programs including windows updates. All the temporary files are generated on C drive and it must have good space to accommodate them and run your system smoothly and fast.
You can still allocate more space to your C drive anytime by adding free space from the hard disk. You can use freeware tools to extend your C drive without disturbing or corrupting your data.
Extend your C drive using IM-Magic FREE edition:
IM-Magic FREE edition is one of the best tool helping you not only in expanding your C drive, but gives you option like moving, merging and re-sizing your data. You do not need to format your hard disk or drive to expand your C or other drive. The tool is very simple and easy to use.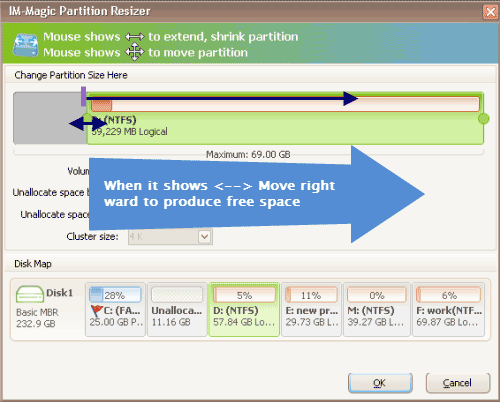 Extend partition with partition freeware
When performing these tasks from this tool, your data is absolutely safe. The tool is available for all the Windows versions and supports all the storage devices like RAID and ,SSD. The supported file systems are FAT,NTFS,ExFAT and EXT.