Summary
Extend volume greyed out in disk mangement? Cannot extend volume in Windows 10? Don't worry, this article will introduce freeware to extend partition when extend volume greyed out on Windows 10/8/7.
Cannot Extend Volume on Windows 10
When there is no unallocated space next to the partition you want to extend, then it cannot extend volume in disk management in Windows 10. Then the key point shows up -> How to create unallocated space?
A simple way to create unallocated space is to make large partition smaller and create unallocated space by its free space.
The question: how to make free space in large partition to be unallocated space, for example make a 200GB partition to be 80 gb and then there will be 120gb unallocated space available.
The answer: shrink large volume in disk management to make a smaller, and then unallocated space will show up in disk management.
How to Fix Cant Extend Volume in Windows 10 - 3 free ways
#1 - Shrink large partition to produce unallocated space in Disk Management (Shrink partition without losing data)
Watch Video - how to shrink, delete, extend volume in Windows 10
The problem may occur if you want to extend c drive and there is d drive or some other drive in between the free unallocated space, then how to extend c volume when the unallocated space is not adjacent?
-> This can be easily fixed with freeware Partition Resizer Free that could let you move partitions free and data totally untouched. See the #3 freeware in the following content.
# 2- Delete partition to produce unallocated space in Disk Management (Back up data onto somewhere at first)
Here is a video that shows you how to resize volume without software in disk management
#3 - Freeware to shrink, redistribute, extend volume in Windows 10 (safe and easy)
I will recommend IM-Magic Partition Resizer Free, which is a freeware to manage disk partitions, you can use to extend, move, shrink, resize, format, wipe, create partitions. It is compatible with Windows 10/8/7/XP/Vista, it also has server edition which is designed for all the server systems.
Free Disk Partition Management Tool Download
(1208)

Free Download Disk Management Tool to Manage Disk Volumes without losing data and get extend volume greyed out problem fixed with freeware.
IM-Magic Partition Resizer Free has an effective partition manage capability, you can make it in a minute, what important is this tool is totally free.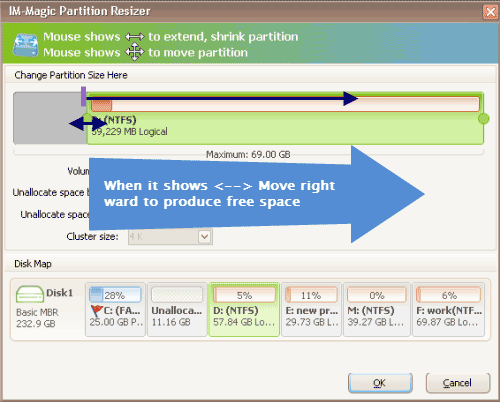 Extend partition when the extend volume greyed out on server sbs 2011
Also read: how to enable extend volume when it greyed out in disk management