Summary
Windows C can be a real pain in the ass sometimes and most importantly in windows server 2008 r2 or sbs 2008 when the C disk goes full. But don't worry, you can find best solutions here to extend C drive for free.
My C Drive is Full on Windows server 2008
Windows C can be a real pain in the ass sometimes and most importantly in windows 2008 when the C disk goes full, and the whole window acts like a stupid child. The applications and other software start running slow, multiple processes of the window gets disrupted, and often the other software goes wrong. In the worst case scenario, the data in the drive C get lost, and you will be left with huge trouble and loss. In the end, you will have to reinstall a new window, and that means the complete loss of all of your precious data and all the software that you have installed and created your accounts in them and have set their settings and are running them with your account logged in. Just imagine what if you had to reinstall the window, as well as all software and then log in your account, how much time got wasted and how much effort it took?
Today, ladies and gentlemen, I am here to offer you the Aladdin's lamp. Yes! Perhaps this software is even more than that, this gem is going to save you from all that trouble and will let you monitor each and everything happening in your drive C along with other drives as well. SO if ever you will require that you have to free up some space from Drive C to prevent possible damage to your data or Windows. It can be done very well and in the fastest way possible on the planet.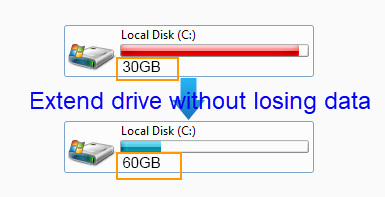 How to extend c drive on Windows
How to Fix C Drive Full in Windows Server 2008 R2 or SBS 2008
The gem is IM-Magic SERVER edition. This software is the ultimate tool which is designed and tested by the experts, capable of executing any command regarding disk management. With this incredible program on your side, you can extend C drive without ever losing your important data and without spending too much of your time. IM-Magic Partition never damages your files or other important things under any circumstances, you don't need to worry, it is free and has guaranteed effective usage results.

The Process to Extend C Drive with IM-Magic Partition Resizer
First of all, you first need to download the software and launch it as an administrator. Now follow these instructions carefully. After the disk map appears on your screen, simply right click on the volume that has a lot of free disk space and goes to "Resize/move". Now as you move the pointer over the area, you would see two-faced black arrows, start stretching them rightwards until you reach the disk space you want to allocate to be added in Drive C: Now, the selected area will appear as free disk space. Now right click on C: drive and go to "Resize/move." Now you will see the free disk space close to the boot drive. Now extend the C drive rightward when the mouse shows the arrows and APPLY changes. Job Done!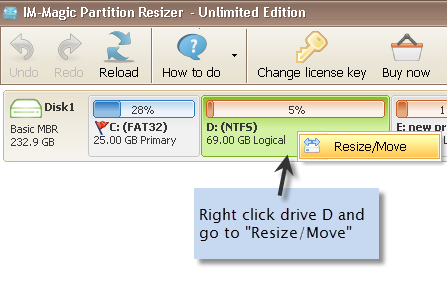 Resize partition with partition manage freeware
[Guide] Steps to extend volume without data loss
This step by step guide will show you the right way to extend any volume using  IM-Magic Partition Resizer Unlimited edition.
Step-1  Download install, and launch the program.
Step-2 Right click the large volume to produce unallocated free space.

Steps to resize your disk partition
Step-3  Then right click c and drag the border to acquire the free space.

Steps to resize your disk partition
Step-4 Apply the changes.
Tons of other features will help you a lot in managing, merging, shrinking or extending drive C in windows 8. All free and very easy. Download the software right now from this link https://www.resize-c.com/