Table of Contents
Introduction
Windows Small Business Server (SBS) 2011 is a Microsoft Windows Server edition which has many new features and updated information, including:
Documents sharing
File printer function
Calendar function
Recovering files with automatic backup
Due to the powerful functions of Windows SBS 2011, many companies choose to use SBS to install on their office server. Data is increasing in companies daily, and users often need to install new applications in the system partition. All of this ultimately to takes up more space. When a new server is built, users often don't which applications will later be added to the system partition. As new applications are installed and others are updated, while data usage increases at the same time, the system partition eventually runs out of disk space . Although many users are aware that the system partition needs to be extended, most are not sure how to go about doing this.
Can't extend C drive Windows server 2011
When a system partition runs low on disk space due to new applications being installed, applications being updated, or simply because of increased data requirements, Windows will display of warning indicating that the disk space is low in the lower right corner of the server screen. Deleting unnecessary files or uninstalling applications that are no longer used is not always possible, and even if it is, this might not necessarily solve the problem.
Windows SBS 2011 has a built-in Shrink and Extend feature that is used for disk management. Although this utility can be used to extend the system partition, this is unfortunately not possible if there is not unallocated space behind the partition. If this is the case, you can't extend the C dive in Windows server 2011 with the tools available within the operation system.
How to Extend C drive when Extend Volume Grayed out
The only way in which you will be able to extend the C drive under these conditions is by using third party server disk partitioning software. There are a number of such solutions available on the market. This type of software will typically assist with disk and partition management to solve insufficient disk space problems by extending the system drive without having to reinstalling the system and lose data.
Extend C Drive with Partition Resize Tool
Extending the Windows Server Partition with the IM-Magic Partition Resizer SERVER edition by resizing the disk partition is easy to do. Users can now safely shrink, resize, extend, and move Windows Server partitions without data loss, even on the boot volume.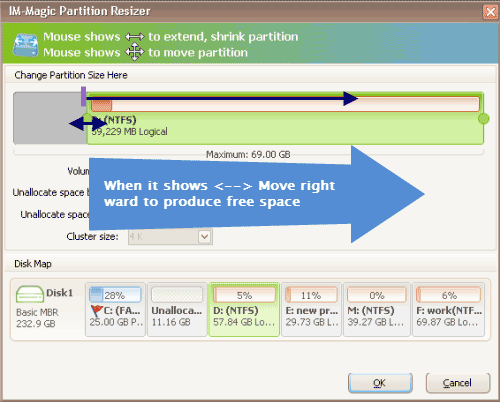 Extend C Drive with Partition Resize Tool
IM-Magic Partition Resizer SERVER edition is 100% safe and will protect both the operating system and data on all Windows Servers. Version supported include:
2000/2003/2008/2012/2016/2019 Server
32 & 64 bit SBS
[Guide] Steps to extend volume without data loss
This step by step guide will show you the right way to extend any volume using  IM-Magic Partition Resizer Unlimited edition.
Step-1  Download install, and launch the program.
Step-2 Right click the large volume to produce unallocated free space.

Steps to resize your disk partition
Step-3  Then right click c and drag the border to acquire the free space.

Steps to resize your disk partition
Step-4 Apply the changes.

Why Choose IM-Magic Partition Resizer Server edition
No downtime when extending system partition.
100% Safe when resizing.
Portable Edition / Bootable CD is available for registered users.
Windows 64 bit independent exe.
Free trial available