Summary
This articles shares method to use diskpart cmd to erase hd and freeware IM-Magic Partition Resizer to remove every byte of old data on hdd without any chance of recovery.

Permanent Erasing Utility Download
Download IM-Magic Partition Resizer Free to delete everything on hard disk forever and it is 100% freeware.
Is it possible to erase a hard drive or a removable usb disk with DOS CMD command prompt? When you want to securely erase your hard drive, cmd is one option but not the last since there are some better options for safely and completely wiping out data on hard drive, then what's it? The answer is freeware IM-Magic Partition Resizer Free, which is a 100% free for erasing data on hard drive.
This article contains two parts
Method one: Freeware to completely remove information on hdd
Partition Resizer is a free disk wiper for Windows 10, 8.1,7, Vista, XP. If you want to use it on Windows Server OS like server 2003/2008/2012 or more, you may download trial of Partition Resizer Server.
Peparation: download and install freeware Partition Resizer
Step 1, launch the program and open it, find your hard drive that you want to erase on Partition Resizer and then navigate to Wipe Partition by right click the drive that you want to erase.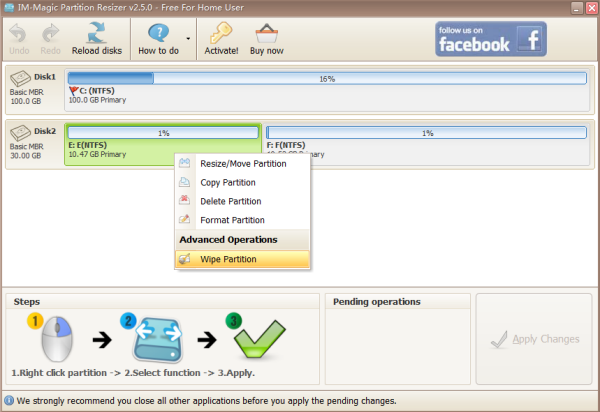 Note: if you want to erase the whole disk, you may select partitions to erase one by one.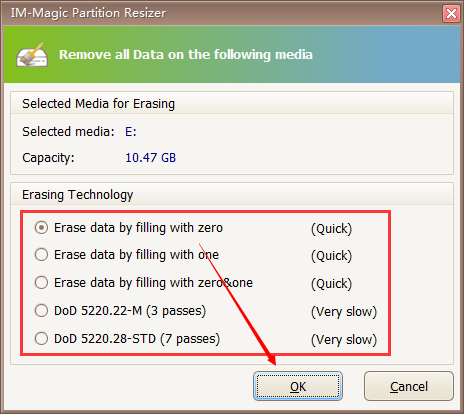 Just needs a little time waiting in the wiping process. And it is almost done flawlessly.
IMPORTANT NOTE: WIPING BY FILLING DATA ON HDD WOULD MAKE OLD DATA OVERWRITTEN AND PERMANENTLY GONE FOREVER!
Method two: use CMD diskpart erase command to remove your hard drive data
Step one: open cmd by going to the start up and find type 'CMD' in the find and search toolbar.
Type 'diskpart' and press Enter button on your keyboard


Once you see the disk part window, type 'list disk' to let it show all disk on your PC.
Once it shows your disk, type 'select disk 1' and then press enter to get the disk that you want to erase selected.

Once it says Disk 1 is selected, then go to the next step.

Type 'Clean' to start cleaning.
For more detailed guide on how to erase hdd with cmd, you may visit that showed details using DOS command line.
Caution: using cmd to clean data on your disk would make your data disappear and data are no longer be able to be accessed.