Summary
Download usb flash drive erasing utlilty to remove usb flash drive data for free. 100% freeware!

Partition Magic Eraser Download
Download IM-Magic Partition Resizer Free to safely erase hard disk partition information without any chance of recovery 100% freeware.
Freeware to Wipe Data on USB Flash Drive/USB HDD
Is there tool that can be able to erase usb flash drive permanently without any chance of data recovery? When you used the usb drive no matter usb hdd or usb flash drive for a while, there should be traces for youer personal information of what you have kept on this usb drive. The question is how to remove every detail on the usb drive permanently?
This erasing tool is needed when you want to remove data inside of usb flash drive/pen drive when you want to send it out to someone else or you just do not want it anymore. Or it could also happen when you want to protect privacy.
IM-Magic Partition Resizer is all you need for erasing a usb drive and it is totally free of charge of home users.
Simple steps of erasing usb flash drive with free erasing tool
Prepartion: download and install Partition Resizer on your Windows PC. So far it is only Windows platform working utility. Connect your usb drive to your computer and this utility could recognize it as a removable device.

Step one: Launch Partition Resizer, find your usb device in Partition Resizer and then right click the usb storage unite. Select 'Wipe Partition' function that appears on the screen.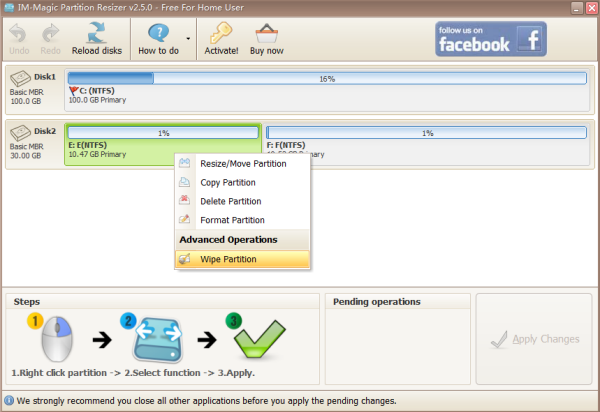 Step two: select a erase mode by different levels of erasing. The available methods are all 100% permanently erasing, the only difference is that time concerns. The one that writes more data to prevent data from being recovery needs the most time and patience.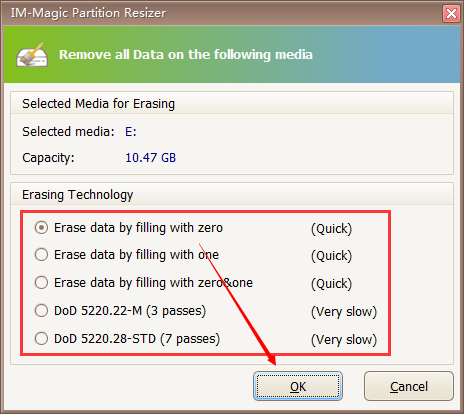 You may select a simple wiping method if it is in a hurry for the erasing.
Caution: 'Wipe Partition' makes it impossible for data recovery, so please make it clear on your mind that you will lose the inside usb flash drive data permanently once you take this step.
The wiping cannot be undone and it is permanently erasing.

Part Two: Erase usb drive with Partition Resizer VS CMD

As we know that the CMD command prompt also erase data, which is better for your usb drive for the erasing?
Pros of CMD command prompt for erasing usb drive
No other software install required that you can directly operate the erasing from your PC.
Cons of CMD command prompt for erasing usb
It is complicated and not easy to perate with command line that is only suiteable for advanced computer geeks.
What's our advice
Use the freeware to do the erasing job on usb flash drive which is simple and easy to operate and what's more, it is 100% free of charge.
PS: if you need to resize data on Windows Server OS, Partition Resizer Server is the right choice for you.


Server Hard Drive Erasing Utility Download
Download Partition Resizer Server to Wipe Windows Server Disk from any Recovery. 100% safe without old data recovery.