You can run your computer which has Windows 7 operating system in VMware so that you can prevent unexpected troubles to your computer. Although it has no influence on the real operating system when you run your computer in VMware, the hard disk might run out of disk space in Windows 7 VMware. This article will tell how to expand C drive on Windows 7 VMware when it runs out of disk space.
When Do You Need to Extend C Drive in VMware on Windows 7?
Usually, you seldom pay attention to it whether there is enough free space on C drive before receiving low disk space warning on Windows 7. Therefore, many people release that the available space on C partition is not enough when Windows 7 reports that C drive is running out of disk space in VMware and they may want to increase the size of C partition when getting the alert message. Of course, there is somebody who may check the space of each partition on their computer so that they can make sure every partition has enough free space for data storage or Windows 7 update. On Windows 7, C drive usually shows red bar when it is nearly full. If you find that the C drive shows red bar in VMware on Windows 7, it is necessary to expand its space even if Windows 7 does not show low disk space alert.
How to Expand Space of C Partition in Windows 7 VMware?
Method 1: Expand C partition in Windows 7 VMware with Disk Management
Method 2: Extend C drive in VMware Windows 7 with Partition Software
1. Increase C drive in VMware with Windows 7 Disk Management
Disk Management is built-in Windows partition manager tool, which is available on every Windows PC. The only difference is that the Disk Management on later Windows operating system has much more functions. Well, Windows 7 Disk Management is able to help expand size of C drive in VMware.
Follow the guide to extend C drive system partition on Windows 7 in VMware:
Right Computer and click Manage > click Disk Management to enter Windows 7 Disk Management > right click a partition that has enough free space and click Shrink Volume option > enter the amount of space you want to shrink so that you can get some unallocated space (make sure the unallocated space is behind C drive) > right click C drive and select Extend Volume option > enter the amount of space you want to add to C drive and then it will add the unallocated space to C partition
Extend Volume option grayed out on Windows 7 VMware?
Are you facing the problem that Extend Volume option is grayed out under Disk Management? This problem usually occurs when the unallocated space is not behind the C drive. When you run into this problem that Windows 7 extend volume grayed out, you have to rely on the method 2 to increase size of system partition in VMware Windows 7.
2. Extend System Partition with Partition Tool for Windows 7 VMware
If the unallocated space is not close to system partition, you can use a partition tool to move the unallocated volume close to system partition to resolve the problem that extending volume is grayed out under Disk Management.
Partition Software for Windows 7 C Drive Expanding in VMware
IM-Magic Partition Resizer Free is a partition magic tool, which has the ability to extend volume, shrink volume, move volume, format volume and delete volume on Windows 7 in VMware. Therefore, you can use this partition software to perform C drive partition expanding when it has insufficient free space on Windows 7 in VMware.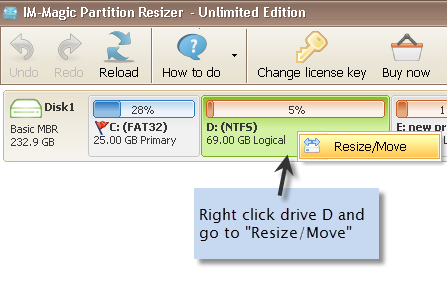 Download IM-Magic Partition Resizer Free Edition