Summary
This page will introduce professional partition software for Windows SBS 2003 users to expand size of system partition without formatting 2003 or reinstalling sbs 2003.

SBS 2003 Partition Software Download
Download IM-Magic Partition Resizer Server to resize hard disk so as to fix low disk space problem on Windows SBS 2003.
Expand System Partition SBS 2003 without reinstalling OS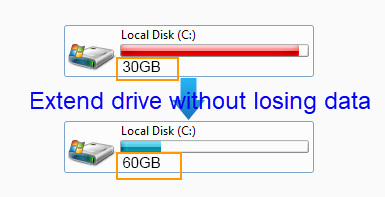 When your Windows SBS 2003 is running out of space on system partition, what can we do? Don't panic!
Most often, you wont like to reinstall the operating system. But can you extend c volume without reinstalling the sbs 2003?
Due to the importence of the consistent working of Windows Server, it may do not want a down time. Here the Partition Magic Resizer Server can help resize/extend system partition by moving free space from other partition on the same hard disk without reinstalling system or touching data on the partition. All Windows Servers are supported by this partition software.

Steps to Expand System Partition on SBS 2003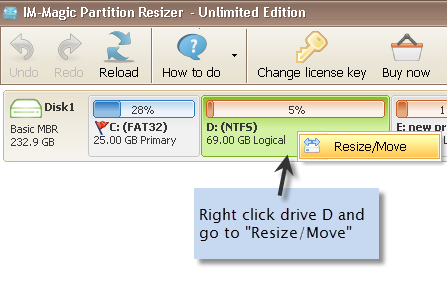 How to redistribute disk space in Windows Server
Step 1:
Download, install and launch IM-Magic Partition Resizer Server. Right click a partition that has much free space and select "Resize/Move" option.
Step 2:
Shrink the selected partition so as to create some unallocated space.

Steps to resize your disk partition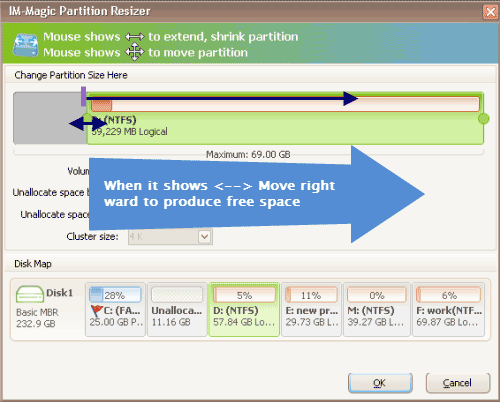 Shrink other large partition to produce free space for C drive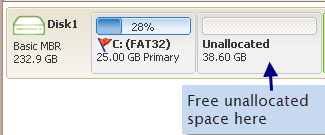 Step 3:
Move the unallocated space close to system partition. Then, right click system partition and choose "Resize/Move".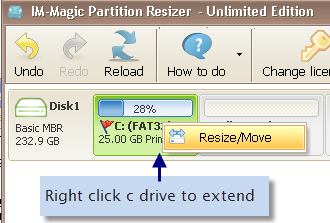 Right click c drive to get started with extending c

Steps to resize your disk partition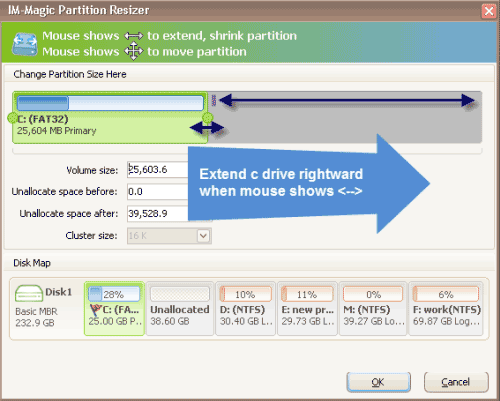 Step 4:
You can add the unallocated space to system partition by moving the arrows and then click "Apply" button.
Download IM-Magic Partition Resizer Server Edition


System Partition Runs out of Space on SBS 2003
"Hello! The system partition on SBS 2003 Server which has a RAID 5 volume and the system has a low disk space after a few years of running. I doubt if I can expand the system partition space with formatting the disk? If anybody has the similar experience, can you tell me how to resize the system partition without reinstalling the SBS 2003 operating system?"
Resize System Partition without Rebooting
Traditional method to resize system partition can be a time-consuming work because it usually takes a long time to reinstall system and reboot PC. If you can use IM-Magic Partition Resizer Server, it will be time-saving which allows you to extend system partition whether it is FAT32 or NTFS file system without rebooting computer.
You even have no need to backup data before partition resizing, because this software enables you to extend system partition and remain all data untouched.
Did you meet the similar problem on Windows Server 2003 or other Windows Servers? In fact, you can use the same method to extend system partition on other system when receiving low disk space warning on Windows Server.

For Windows Server all versions ==> Download IM-Magic Partition Resizer Server