Summary
C drive is full want to extend the space? You can extend system c drive in server 2016 without data loss.
C drive is full on server 2016
Though new features and updates have introduced at the latest Windows' update, the disk management tool still works like the same way. Nothing new have been added and you will find the same old problems again. Basic and advance operations like create, delete, format partition, change drive letter, shrink and extend volume and the ability of changing partition size are still there with the built-in tool but the limitations are still there. You will be unable to extend C drive by shrinking the other one.
Server 2016 expand boot volume is needed
Windows' server 2016 operating system partitions are not reasonable because the system partition would be very small. This small space will be full soon with data and updates. Low disk space will hamper the usul operation of windows may cause system failure or reboot. The server will be slower and slower. When using the build-in windows' disk management tool you may meet the situation that the extend volume is grayed out. You won't be able to extend the volume without reinstalling the system. Because the unallocated adjacent space should next at the right side of the drive. No unallocated space at the right side of system partition means you won't be able to extend the drive without losing data. But there is a way.
How to extend C drive in Windows Server 2016 without data loss?
When the extend volume option is grayed out, there is only 1 options available for you to Extend C volume on Windows Server 2016 without losing data. Yes you can delete the partition next to the system partition but all the data on the drive will be lost.
Risk of losing data from the deleted drive.
Freeing up disk space may take a long server downtime.
The adjacent unallocated space needs to be at the right side of the system drive.
It only works for the NTFS file format and doesn't work for other file systems.
Free up disk space will only be a temporary solution
Some time the extend option will be greyed out and won't work
There is always the chance of system errors & data loss
Extend system c drive server 2016 with IM-Magic-Partition resizer
It's not a simple task to extend partition without unallocated space using disk management. Deleting a partition always has the potential risk of data loss or even boot failure. To extend system c drive server 2016 without data loss, you should use IM-Magic-Partition resizer. It's a freeware which you can use completely free by simply downloading it. It's a 3rd party tool which is completely safe and you can use it to extend, merge, create or delete partition at ease. It's fast operation also supports 0 server downtime.

3rd party tools have their own issues and most of the time there is the risk of losing data. But IM-Magic-Partition resizer is completely safe and you will be able to add space at your Windows Server 2016 c drive easily and without any hustle. It's a freeware means you can use it simply downloading it. After downloading, simply follow the below steps,
Run the IM-Magic-Partition resizer & find the list of disk partitions
Find the partition which you want to resize, right-click and choose "resize/move partition," option.
Use your mouse to shrink the partition which has more space.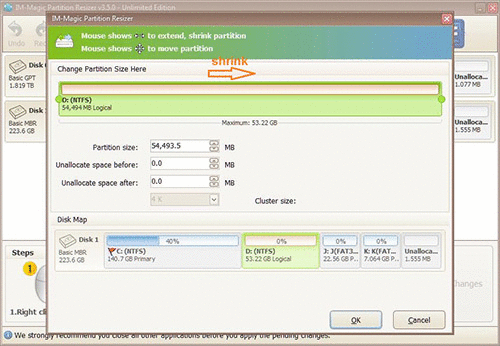 Steps to resize c drive space in Windows server
Then you can extend your c drive with the mouse.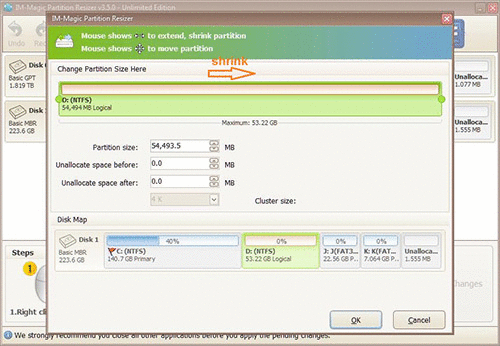 Steps to resize c drive space in Windows server
Apply the changes
There are other useful features of the IM-Magic-Partition resizer including resizing partition, wiping partition, copying partition, converting disk type. It works on all windows servers such as 2000/2003/2008/2012/2016/2019/2022 including 32 & 64bits SBS etc. No downtime While you Resize partition windows server 2019. It's worth a try.