Extend System Partition C Drive Windows XP Vista 7 8 10
System partition is the partition on which you windows installed the Windows operating system. Usually, a system partition contains all data related to system which has influence on the normal startup of your computer. When a system partition does not have enough free space, your computer will run slowly. Even worse, you may be unable to install Windows updates on your computer, in which situation the operating system might run under an unsafe environment. This page will share how to extend system partition C drive on Windows XP, Vista, 7, 8, and 10 when it has low disk space.
Extend System Partition Windows XP
Windows XP is the Windows operating system which was released in earlier time, so it does not contain any built-in partition magic tool for system partition extending. If you want to extend the space of system partition on Windows XP, you may need to repartition hard disk. In order to repartition hard disk, you usually need to delete all partitions on the disk and reinstall system. Therefore, you had better make a backup for all data stored on the disk before repartitioning hard disk on your computer.
Expand C Drive Windows Vista / 7 / 8 / 10
Windows Vista is the successor to Windows XP. Microsoft released Windows 7, 8, 10 in succession. On Windows Vista, 7, 8 and Windows 10, it has Windows built-in partition manger tool for partition resizing, with which you are able to extend system partition without having to repartitioning hard disk on your PC.
Disk Management is the Windows built-in partition tool, which enables you to manage disk space on Windows 10, 8, 7, Vista without disk repartition. You can follow the guide below to extend C drive with Disk Management under Windows Vista, 7, 8, 10:
Preparation: Move all data from D drive to another drive (D drive usually shows on the right side and contiguous to C drive)
Step1. Open Disk Management on Windows computer and then right click D drive and select "Delete Volume" option.
Step2. You will get some unallocated space showing contiguous to C drive after deleting D drive.
Step3. Right click C drive and select "Extend Volume" option.
Step4. Enter the amount of space you want to add the C drive so that you can extend the C partition.
Related resources:
>> Windows XP Disk Management
>> Windows 7 Disk Management
>> Windows 8 Disk Management
>> Windows 10 Disk Management
Extend C Partition with Windows Partition Software
Whether you resize hard drive by repartitioning hard disk or relying on Disk Management, you may take a big risk of losing data if you forgot to make a backup in advance. If you want to get a way to extend C partition without touching any original data on the disk, you can use partition software for Windows. IM-Magic Partition Resizer Free is a free partition magic which is able to work on all Windows platform for partition resizing, so you can free download this software to increase the size of C drive when you receive low disk space warning on it.
With the IM-Magic Partition Resizer Free, you are able to:
>> Increase the size of system partition C drive without repartition hard disk
>> Extend C drive without reinstalling system
>> Expand system partition without having to format it
>> Extend system partition without losing any data
>> Extend C drive without rebooting your computer
In conclusion, you can use this free partition software to reallocate disk space so as to extend system partition C drive on any Windows operating system when other methods failed to accomplish the task.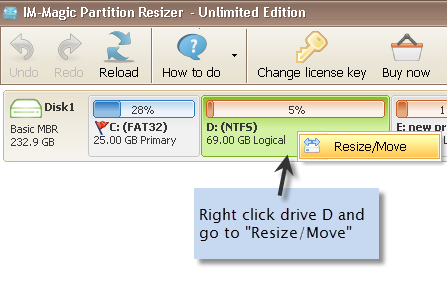 More Related Articles You May Like
Copyright © 2017 IM-Magic Inc. All rights reserved. Windows® is trademark of Microsoft Inc., and Partition Magic® is trademark of Symantec Inc registered in the U.S. and other countries . IM-Magic's software is not developed by or affiliated with Microsoft nor Symantec Inc.