Summary
Extend partition failed server by disk management? What's the problem and how to extend partition then? Don't worry, we will show you the best solutions to extend disk partitions easily.
Low disk space how to extend partition server 2012 r2 by disk management
Low disk space in the disk is one of the most common problem for every computer user and server is not a different thing. A disk space is very critical for any operating system because it's directly affects the processor speed as well as operating the computer in optimal processing power. And when it happens at the C drive, there are very few available solutions with their own complications. Just like normal Windows operating system, Windows also updates regularly and sometime it happens daily. You also need to add software to make the machine running based on your need. This is why you need your disk space to have enough space which is not always possible unless you add new hard drives. The most common solution you will hear is to free up the disk space. It's just a temporary solution because it won't add any space. The other common solution is to partition your drives again which will erase all existing data on the drives. It's pointless since it's a server and downtime is always not expected from a server. So how to solve the extend partition on the server 2012?
Extend failed server 2012
Several of my friends have tried to resize or add volume to the low spaced drive and failed. If you want to use Windows built-in disk management tool to add space then surely you will fail like others. Yes windows has a built in disk management tool which helps sometime. But it has some specific limitation. You can use Windows disk management tool to extend partition but it needs unallocated space at the right side of the desired disk drive. Without unallocated space at the right side of the desired disk drive, disk management tool will failed to extend volume. Lots of people have complained to me about this extend volume failed server 2012. There is no way you can use the disk management tool to extend the volume. The option will be greyed out at the disk management tool. You can remove the partition next to the desired disk drive but there is no guarantee that the disk management tool will let you extend the volume server 2012. To add or extend the volume, you have only 2 logical choices. You can remove all partition and create partition again which will lead to data loss or use IM-Magic Partition Resizer.
Extend partition server 2012 with Partition Resizer without losing data
Unlike other unreliable partition resizer tool, IM-Magic-partition tool is very reliable. It's a safe tool and there is no risk of losing data whereas other unreliable tools are often called as data killer. It's an awesome tool which can help you extend or resize partition with just few some steps. The whole process is very easy and safe. Download it from the website & follow the below 4 easy steps.
Step 1: Run the IM-Magic-Partition resizer & find the list of disk partitions
Step 2: Find the partition which you want to resize, right-click and choose "resize/move partition," option.
Step 3: Use your mouse to extend or shrink the partition.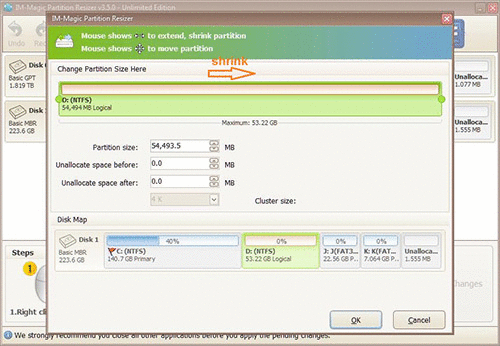 Steps to extend partition in Windows server 2012
Step 5: Apply the changes
See how easy it is. It's the best solution to the extend volume failed server 2012.