Extending C Drive on Windows 2003 Server 2000 2008 SBS
Summary
What shall we do when c drive is running out of space on your Windows Server OS like server 2003? SBS 2003, and other editions? Try IM-Magic Partition Resizer Server Edition to extend c drive.

Download IM-Magic Partition Resizer Server for Windows Server partitions when it is running out of space on server c drive!
Repartition a Hard Drive Free for Windows Server 2000/2003/ 2008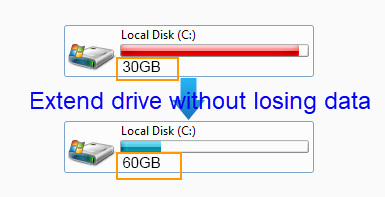 Windows Server 2003 C Drive Running Out of Space / Extending C Drive on Windows 2003
Usually, Windows operating system is installed on C drive. As times goes by, you may find the free disk space of C drive is decreasing gradually. Then, the alert message of low disk space on C drive can pop up when it doesn't have enough free disk space to meet users' needs. Of course, you can remove some redundant data to free the disk, but this only does little help to prevent the C drive from running out of disk space. Therefore, you still need a solution to solve this problem once and for all.
Extending C Drive with IM-Magic Partition Resizer Server
Extending C drive is the best solution to solve the low disk space, but it is a pity that Windows Server2003 doesn't have the function of resizing disk partition. So you need a third-party partition utility to extend the Server 2003 C drive. IM-Magic Partition Resizer Server assists with extending disk partition on Server 2003, Server SBS 2003 and other Windows Server computers with ease. A free disk space is required near the C drive in order to extend the drive, so you need to produce a free disk space first by shrinking another partition that still has much free space. IM-Magic Partition Resizer Server also allows you to shrink and move a partition.

Step by Step Instructions to Extend C Drive on Windows 2003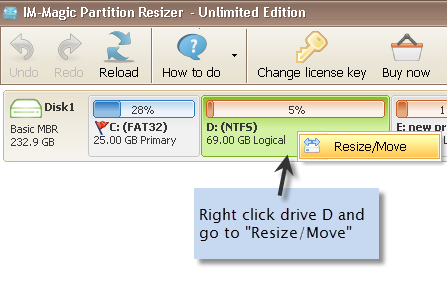 How to redistribute disk space in Windows Server 2000/2003/2008/2012
Step 1:
Run IM-Magic Partition Resizer Server on computer. Right click a partition which has much free disk space and choose "Resize/Move" option.
Step 2:
Decrease the size of selected partition by moving the arrow. The free disk space will be shown as an unallocated volume.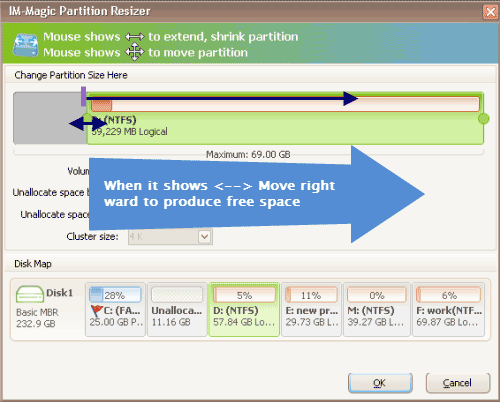 Shrink other large partition to produce free space for C drive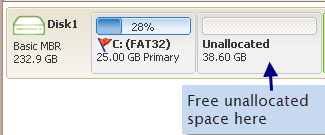 Step 3:
Move the unallocated volume close to the C drive. Right click C drive and choose "Resize/Move" option.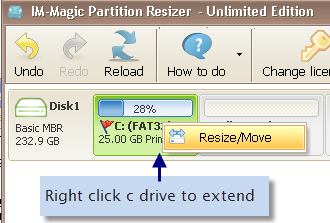 Right click c drive to get started with extending c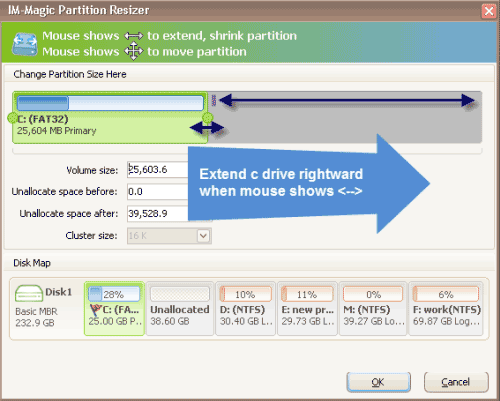 Step 4:
 Increase the size of C drive by moving arrow.  Click "Apply" button.

Why Should You Choose IM-Magic Partition Resizer Server?
If you are not a computer specialist, you will delete or move files from C drive to free disk space. Or you will even try to reinstall your system and format the drive. However, as a computer user, you may know how inconvenient it is to reinstall a Server operating system. The key point is that you may also be quite clear it doesn't have much function to do so. Therefore, IM-Magic Partition Resizer Server can play an important role in rescuing your C drive from running out of disk space.
As a useful partition manager, IM-Magic Partition Resizer Server can work perfectly in following situations:
Works on all Windows Server OS including Windows 2000/2003/2008, SBS 2003, etc
Supports FAT and NTFS file system
Supports hardware RAID
Resize disk volume without touching the data on the disk
Does no harm to system after unexpected shut download of computer
A Good Habit to Avoid C Drive from Running on Low Disk Space
If you can keep a good habit when using your computer, you may save a lot of space on C drive and protect it from running on low disk space.
Firstly, it will occupy a lot of space on C drive when you save many files on " Desktop" and "My Document". So it is strongly recommended you to save files to other partition such as D drive, E drive, F drive or more.
Besides, C drive space can be eaten up when installing a lot of programs (like games) on your computer. Therefore, you had better uninstall some unnecessary programs from your computer. Please remember: the space on C drive is still occupied if you only delete the programs on "Desktop". You must uninstall the program by using "Add or Remove Programs" in Control Panel.
Finally, you should keep a habit of clearing temporary internet files or cache regularly.

More Related Articles You May Like
Copyright © 2018 IM-Magic Inc. All rights reserved. Windows® is trademark of Microsoft Inc., and Partition Magic® is trademark of Symantec Inc registered in the U.S. and other countries . IM-Magic's software is not developed by or affiliated with Microsoft nor Symantec Inc.