Free Partition Resizer to Extend System Partition on Windows Server 2003
Summary
This guide is about resizing Windows server 2003 when its running out of space and need to expand system partition boot volume!

Download IM-Magic Partition Resizer Server for Windows Server 2003 to manage server disk partition without reformatting server disk nor reinstalling server OS.
Server 2003 System Partition Runs out of Disk Space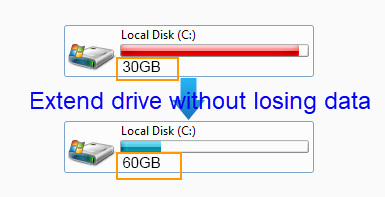 As a computer user, you may know C drive is often used as system partition for installing system program or applications, so does on a computer with Server 2003 OS. Have you ever run into disaster that the system partition is running out of disk space on your Server 2003? You may find your computer runs more and more slowly. Or what's worse, your computer stops working one day. Therefore, it is essential to keep system partition enough free disk space to prevent computer from working normally.

Free Partition Resizer to Extend Server 2003 System Partition
The only way to avoid system partition from running on low disk space is to maximize its capacity by extending the partition. IM-Magic Partition Resizer Server right works as partition resizer magic to manage disk partition without touch any file on the disk. This partition resizer software is able to work on all Server computers and supports FAT and NTFS file system to help you with extending disk partition, shrinking disk partition and moving disk partition. You can resize the system partition in a matter of several minutes with a few mouse clicks.
Step-by-Step Guide: Extend System Partition on Server 2003
IM-Magic Partition Resizer Server is a professional partition resizer for Server users. You just need to download and install it on your Server and follow several simple to perform disk resizing. For example, if you want to extend system partition on your Server, you can follow this way: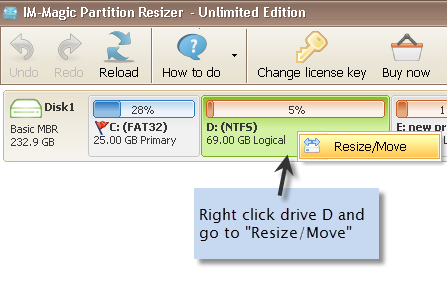 How to redistribute disk space in Windows Server 2003
Step 1:
Free download, install and launch the IM-Magic Partition Resizer Server. Right click a partition that has sufficient free disk space and select "Resize/Move" option
Step 2:
Move the arrow to shrink the selected partition. Then you can see an unallocated disk partition shown beside the selected partition.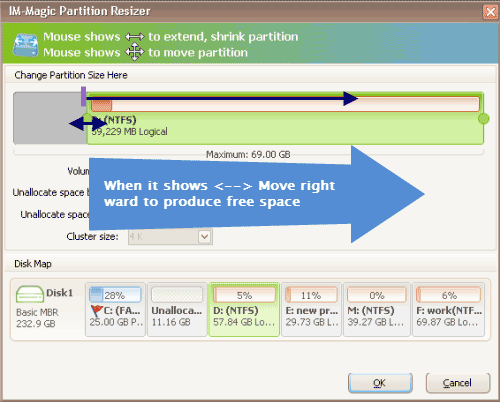 Shrink other large partition to produce free space for C drive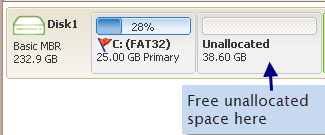 Step 3:
Move the unallocated disk partition close to system partition. Right click system partition and choose "Resize/Move" option.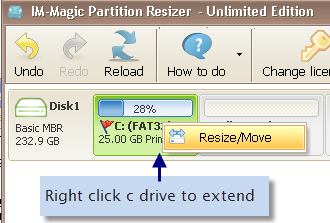 Right click c drive to get started with extending c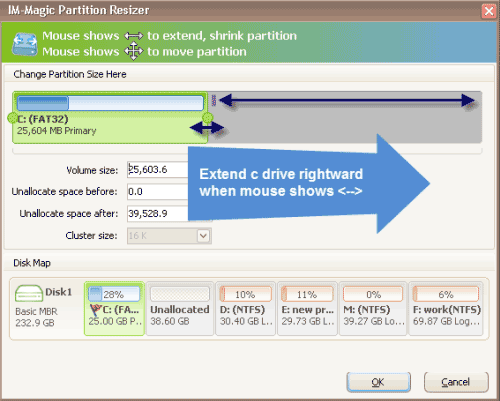 Step 4:
 Move the arrow to extend system partition. Click "Apply Changes" button to apply all changes to the partition.

Resize Partition on Windows 2003, SBS 2003
Apart from system partition, if any other partition is running on low disk space, IM-Magic Partition Resizer Server is also helpful in partition resizing. This software is user-friendly and has a clean interface, so you can extend, shrink and move disk partition efficiently and easily. As professional Windows server partition magic, this software is available for almost all Windows Server OS including Windows Server 2003, Server SBS 2003 and other Server OS like Windows 2000, Windows 2008.
100% Keep OS &Data Safe
Are you wondering if data will be deleted or destroyed after free resize windows server 2003 partition? IM-Magic Partition Resizer Server 100% keeps all files stored on each partition safe. No matter you extend, shrink or move a partition, the data will remain untouched on its original place. Does the software have any influence on the OS? The software only helps resize the disk partition but doesn't have any influence on the OS. Meanwhile, even computer stops working with unknown reasons, the data and OS can still remain untouched after rebooting computer. Therefore, IM-Magic Partition Resizer Server is 100% a safe and reliable partition resizer tool.
Extend Partition without Rebooting Computer
To perform partition resizing on Server, on the one hand, you might care about whether the software is safe for data and OS because it would be a great a loss if important data is lost or system breaks down. And on the other hand, you may still care about whether you need to reboot the computer to accomplish the resizing. It is waste of time or it may cause some troubles to reboot computer. By using IM-Magic Partition Resizer, it is able to help you resize disk partition without rebooting the computer. The resizing task can be accomplished in a short time after you apply changes to resize the disk partition. Therefore, IM-Magic Partition Resizer Server is absolutely an efficient partition resizer utility for all Server users.

More Related Articles You May Like
Copyright © 2017 IM-Magic Inc. All rights reserved. Windows® is trademark of Microsoft Inc., and Partition Magic® is trademark of Symantec Inc registered in the U.S. and other countries . IM-Magic's software is not developed by or affiliated with Microsoft nor Symantec Inc.