Summary
This guide is about how to resize partition in Windows Server 2003 using a partition resizing software that works like Partition Magic - IM-Magic Partition Resizer Server Edition.!

Download IM-Magic Partition Resizer Server for Windows Server 2003 to manage server disk partition without reformatting server disk nor reinstalling server OS.
Free Server Partition Software Download for Windows Server 2000, 2003, 2008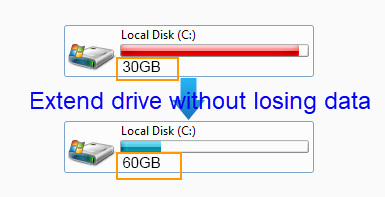 You may partition a hard disk into several partitions on Server 2003, but the space allocated to each partition may be unreasonable sometimes. For instance, you may allocate a small size to one partition while allocating a lot of space to another partition. Under this circumstance, the partition which only has a little space may run out of disk space soon. You may perform disk cleanup to free space on the partition, but the free space will be eaten up soon. If so, you may want to allocate more free space to this partition. But are you wondering how to allocate more free space to a disk partition that is full?

IM-Magic Partition Resizer Server that Works as Partition Magic
For the problem above, you need to resize the disk partition. However, Windows Server 2003 operating system doesn't have a function to resize the disk partition, so you need to rely on third-party partition magic tool. IM-Magic Partition Resizer Server is able to meet your needs of resizing disk partition on Windows Server 2003. You can resize system partition or data partition effectively and efficiently with help of this partition tool.
How Does IM-Magic Partition Resizer Software Work on 2003
IM-Magic Partition Resizer Server is a professional partition resizer for Server users. You just need to download and install it on your Server and follow several simple to perform disk resizing. For example, if you want to extend system partition on your Server, you can follow this way: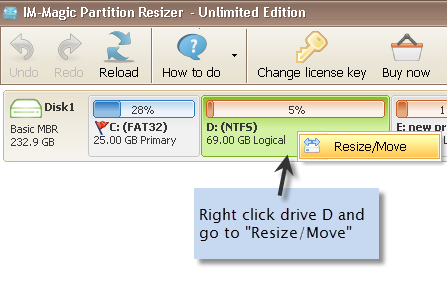 Redistribute disk space from large volume in Windows Server
Step 1:
Run the software, and then right click a partition that has sufficient free space and select "Resize/Move" option
Step 2:
Move the arrow to shrink the partition to produce a free disk volume which will be shown as unallocated volume.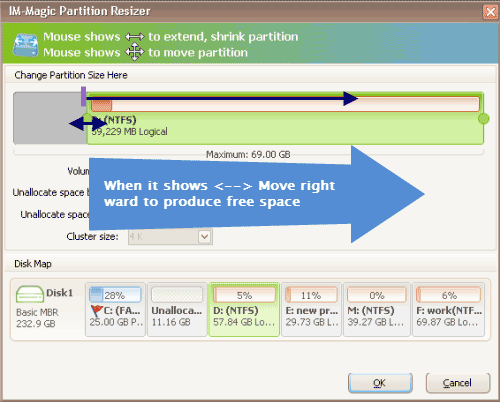 Shrink other large partition to produce free space for C drive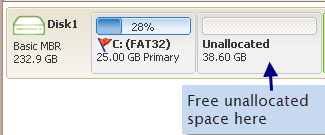 Step 3:
Move the unallocated volume close to system partition. Right click system partition and select "Resize/Move" option.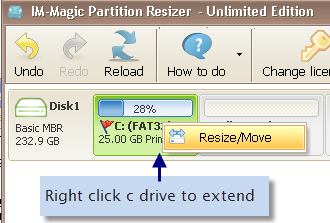 Right click c drive to get started with extending c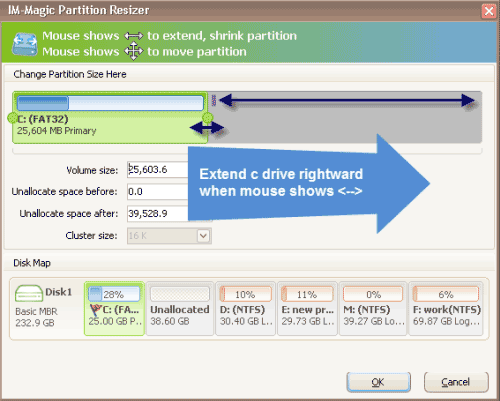 Step 4:
Drag the arrow to extend the system partition. Click "Apply" button to get system partition expanded.
From the above, you can find IM-Magic Partition Resizer Server is user-friendly software. With it, "Drive C running out of space" problem can be solved easily.

Extend, Shrink and Move Partition to Reallocated Disk Space Easily
The main functions of IM-Magic Partition Resizer Server include extend disk partition, shrink disk partition and move disk partition. If you only want to shrink a partition, you just need to move the arrow and click "Apply". However, if you want to extend a partition, you may also need to move the partition. For example, you want to extend C drive when it is nearly full on Server 2003 but only F drive has enough free disk space, then you will need to move free disk space produced by shrinking F drive close to C drive.
Resizing NTFS and FAT System Partition for Windows Server 2003
IM-Magic Partition Resizer Server supports to resize disk partition in NTFS file system and FAT32 system. When resizing the disk partition, the software won't change or modify all files stored on the disk. So you don't need to backup the data before using the software. Even you still don't need to worry data loss due to unexpected reasons such as power off of computer in the resizing process. On the contrary, even the resizing process is stopped since computer shuts down, it doesn't cause system breakdown. with this partition software, you can perform extend C drive Windows 2003 in VMware.
Resize Windows Server SBS 2003
IM-Magic Partition Resizer Server is available for all Windows Server OS including Windows Server 2003 and Server SBS 2003. When disk partition has low disk space, especially if a system partition is running out of disk space on Server SBS 2003, it may affect the performance of the Server and lead computer to run more and more slowly or even cause much more trouble. As partition magic software, IM-Magic Partition Resizer Server can fix the low disk space problem easily on SBS 2003.