Is there any free solution for Windows 8 C drive expanding without needing to reinstall operating system? It is usually not an easy task to expand the size of C drive because you usually need to reinstall operating system and repartition hard drive on your computer. It is a complex and time-consuming process to backup data, reinstall Windows 8 OS, delete partition, repartition partition and format partition for C drive extending by system reinstalling. Therefore, this article will share free ways to increase size of C drive on Windows 8 without reinstalling system.
Why Do You Need to Expand C Drive on Windows 8?
You may need to expand C drive in Windows 8 in following situations:
1. You find that C drive shows red bar on My Computer of Windows 8
2. Windows 8 reports low disk space warning on C drive
3. There is no available space on C drive to upgrade your computer from Windows 8 to Windows 10
4. There is no enough free space to install Windows 8 updates
5. Your PC runs more and more slowly since system partition does not have enough free space
Why Not Reinstall Windows 8 for C Drive Increasing?
One the one hand, many PC users do not know how to install Windows 8 operating system. Therefore, you usually feel it difficult when telling you that you need to reinstall operating system if you want to repartition hard drive for C drive increasing. Here are some other reasons that you may not want to perform Windows 8 system reinstall for C drive expanding:
1. It may cause data loss, system crash, hard disk failure and more other problem if the system reinstalling fails in the process.
2. You may lose some important data after reinstall Windows 8 operating system if you did not make backup before system reinstall.
3. You have to download and reinstall programs again on your computer because system reinstall might erase and uninstall programs which were stored on system partition.
Extend C Drive with Windows 8 Disk Management Instead of System Reinstalling
Without system reinstall, you can easily extend C drive with Windows 8 Disk Management. Disk Management is available on all Windows platform, which provides easy and free solution for managing disk space on your computer. On Windows 8, Disk Management allows you to resize hard drive without reinstall system and repartition hard disk You can follow the guide below to increase size of system partition C drive on Windows 8 without reinstall system:
Step1. Backup data stored on D drive and then open Disk Management on Windows 8.
Step2. Right click D drive under Disk Management and click Delete Volume option.
Step3. D drive will show as unallocated partition when the deleting is completed. Then, you can right click C drive and click Extend Volume option to add the unallocated space to C drive.
Why not shrink D drive to get unallocated space?
You probably know that you can shrink partition under Disk Management on Windows 8 to squeeze some unallocated space. The reason why you had better not shrink D drive or other partition to get some unallocated space is that contiguous unallocated space is needed in order to extend C drive. If you shrink D drive to create some unallocated space, the unallocated volume will not show close to C drive. If so, you cannot add the unallocated space to C drive.
Expand C Drive Space with Windows 8 Partition Software for Free
If you do not want to delete any partition for C drive increasing, you can use IM-Magic Partition Resizer Free. It is a free partition magic tool that is able to resize hard drive without deleting any partition. You can use this partition software to shrink any partition that has enough free space on the same hard drive to get unallocated space. And then, you can move unallocated space close to system partition by using this software. Finally, you can partition manager server 2008 without reinstall system.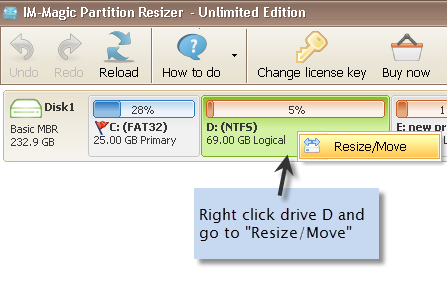 Download IM-Magic Partition Resizer Free Edition