Do you always need to reinstall system or format disk partition on Windows 7 in order to extend C drive space? Is there a free method to increase the size of C drive on Windows 7 without system reinstalling and formatting? If you are looking for a free solution for Windows 7 C drive extending without needing to reinstall operating system and format, this article will share what you should pay attention to and what methods you can use.
Situations that need to extend C drive on Windows 7:
Usually, you want to extend C drive when meeting following or similar situations:
>> Windows 7 reports C drive runs on low disk space
>> C drive shows red bar in My Computer of Windows 7
>> Cannot install Windows 7 updates because there is not enough free space on C drive
>> More other situations that lead C drive to be eaten up
Free to Extend C Drive with Win7 Reinstall and Format
Traditionally, you may delete all partitions on Windows 7 and then reallocate disk space to resolve the problem about C drive low disk space on PC. Although Windows 7 Disk Management allows you to delete partition easily, it does not allow you to delete C drive because operating system is usually installed on this partition. In this situation, you usually need to reinstall Windows 7 operating system. You can delete C drive in system reinstalling process. And you can reallocate disk space to C drive and then format it to make it usable.
If you choose to reinstall system in order to extend C drive space on Windows 7, you had better backup all data before system reinstalling in order to avoid data loss problem on your computer.
Free to Expand System Partition without Reinstall or Format Windows 7
It is good news for all Windows 7 users that it is possible to expand the size of system partition without having to reinstall system or format it. Windows 7 Disk Management enables you to mange disk space on PC with ease and free, so you can access the Disk Management on Windows 7 to resize hard disk for C drive increasing. You can perform many tasks under Disk Management in Windows 7 such as formatting partition, delete partition, create partition, shrink partition and extend partition and more. You can extend C drive by adding free space to it in Disk Management. Since you have to add contiguous unallocated space in order to increase size of C drive, you can delete the partition showing behind C drive under Disk Management to create some unallocated space. Finally, you can free partition software for server 2008 by right clicking C partition and click Extend Volume option.
Tip: It is highly recommended you not to shrink any partition to squeeze unallocated space with Disk Management, because the unallocated space will not show adjacent system partition by shrinking any partition. You will fail to extend C drive with unallocated space when it is not contiguous to system partition.
Freeware for Windows 7 C Partition Extending without Reinstall or Reformat
It is quite easy to extend C drive if you can use a partition manger for Windows 7. IM-Magic Partition Resizer Free is a freeware that is compatible with Windows 7 platform, with which you can resize hard drive for C partition expanding within a few simple steps. With this free partition magic software, you can expand the volume size of C drive on Windows 7 without system reinstalling or reformatting disk. It supports to extend system partition without rebooting PC whether the partition has NTFS or FAT32 file system.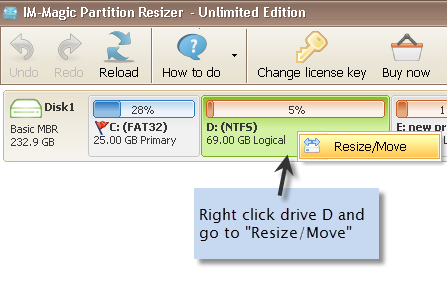 Download IM-Magic Partition Resizer Free Edition