Do you want to add more free space to C drive when Windows 8 reports low disk space warning on it? Can you free to expand the space of C partition without formatting when it is running out of disk space on Windows 8? If you have any doubt about C drive increasing when your PC shows that there is not enough free space on it, this article will tell all possible methods to extend C drive without formatting on Windows 8 for free.
Why Need to Format C Drive to Extend It in Windows 8?
Why do you need to format C drive when you want to extend its space on Windows 8? Usually, you need to format C drive if you want to repartition hard drive on your computer in order to reallocate more disk space to C drive on your computer. In order to reparation hard drive after installing and dividing it into several partitions on your computer, you have to delete the partitions and then reallocate disk space. Since Windows system does not allow you to delete system partition, you have to reinstall system and reformat the disk in order to reparation hard disk and relocate disk space for C drive on Windows 8. You can successfully delete system partition and then redistribute disk space to create a larger system partition. You have to format the new created system partition in order to make it usable on your Windows 8 computer.
Disk Management for C Drive Extending without Formatting Windows 8
What is the best way to extend C drive without having to format it on Windows 8? You can run Windows 8 Disk Management to resize hard drive so that you can extend C drive without needing to format it. First of all, you can delete the partition which is located behind the C drive, with which you can get some unallocated space. Then, you can add the unallocated space to C drive under Disk Management in Windows 8.
Something you should pay attention to:
You have to pay attention to following points if you want to extend C drive with Windows 8 Disk Management:
1. You can only delete the partition which shows contiguous and on right side of C drive because Disk Management only allows you to windows server 2008 partition software when it is adjacent and on the right side of C drive.
2. Disk Management under Windows 8 has the function of shrinking partition, but it is usually recommended you not to shrink partition to produce unallocated if you want to add it to extend C partition because it is unable to produce adjacent unallocated space to C drive by shrinking partition.
Diskpart to Extend System Partition without Format in Windows 8
Another free tool for Windows 8 disk redistributing is Diskpart command. You can run Diskpart command to extend a partition on Windows 8, but there are some limitations. On the one hand, Diskpart is only available for NTFS partition extending. And on the other hand, Diskpart command cannot extend system partition.
Free to Increase C Drive in Windows 8 without Formatting
What can you do if both Disk Management and Diskpart command failed to extend the C partition on Windows 8? Is there any other solution for C drive expanding without relying on Disk Management and Diskpart command? You can use free Windows 8 partition software when Windows 8 Disk Management is grayed out and failed to extend partition or Diskpart failed to extend system partition. IM-Magic Partition Resizer Free is such a free tool for Windows, so you can use it to extend C drive on Windows 8 when all methods mentioned above failed to resize the disk on your computer.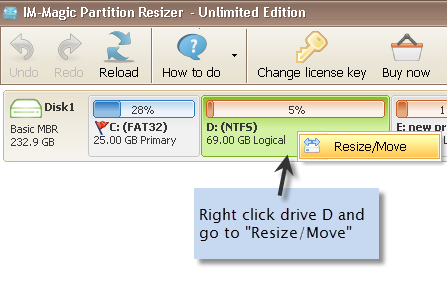 Download IM-Magic Partition Resizer Free Edition