Primary partition C drive runs out of disk space after installing Windows 8 updates or with more and more temporary files, Log files, cookies and caches, etc being stored on this partition? Primary partition is an important part on a PC, which is often used to install operating system. Therefore, PC users often do not save other data to this partition. Although you may never manually write any data to primary partition C drive, its space will be occupied with temporary files, log files, cookies and more. When primary partition C drive runs on low disk space on Windows 8, is there any way to free increase its space?
Solutions for Primary Partition Increasing on Windows 8
When referring to primary partition increasing, there are several solutions. Generally speaking, there are following ways to extend primary partition on Windows 8:
Solution1: Disk Management to extend primary partition on Windows 8
Solution2: System reinstall for primary partition expanding on Windows 8
Solution3: Windows 8 partition software for primary partition C drive increasing
They are three common solutions for increasing disk partition on Windows 8. The first two solutions are Windows 8 built-in tool, with which you can perform disk resizing without relying on any software. Therefore, you can select any of them to extend primary partition when it runs out of disk space on your computer. However, you may meet some problem when you choose different solutions for Windows 8 C drive resize.
Windows 8 Fails to Extend Primary Drive C Partition without Software?
Windows 8 Disk Management is powerful, which enables you to manage disk space on your computer quite easily. Disk Management under Windows 8 operating system works as a partition magic, which enables you to format partition, delete partition, shrink partition, extend partition and create new partition and so on. Therefore, many people would like to use the disk management tool to redistribute disk space on Windows 8 when they meet low disk space problem on primary partition or other partition on a PC. If you ever performed partition increasing under Disk Management of Windows 8, you may find that the extend volume option is often grayed out when you attempt to extend a partition with the unallocated space. Many people failed to extend primary partition C drive with Disk Management because extend volume is grayed out and they have no idea to resolve this problem.
Resolution:
The reason why you are unable to add unallocated space to C drive primary partition on Disk Management in Windows 8 is that the unallocated space is not contiguous to the C partition. In this situation, you have two choices to resolve the problem:
1. You can delete the partition that is between the primary partition and unallocated partition
2. You can run partition software for Windows 8 to move the unallocated space close to the primary partition
Free to Increase Windows 8 Primary Partition by Reinstalling Win8
If you know how to reinstall Windows 8 operating system, you can also reinstall the operating system to redistribute disk space on Windows 8. You can delete some or all partitions on Windows 8 when you attempt to reinstall system and then reallocate disk space during system installation.
Tip: Please backup your drive before deleting in order to avoid data loss
Expand C Drive in Windows 8 for Free with Partition Magic
If you are looking for an easy solution for Windows 8 C drive expanding, partition magic software is a good choice. IM-Magic Partition Resizer Free is a partition manger tool that is able to work on all Windows OS to resize hard drive without reinstall system or delete any partition, so you can use it to extend primary drive C partition on Windows 8 whenever it runs out of disk space.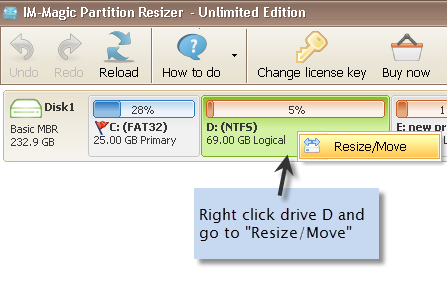 Download IM-Magic Partition Resizer Free Edition