Can you merge two partitions in Windows XP without losing any data for free? Windows XP has built-in disk management tool with which you can manage disk space with ease, but the problem is that Windows XP Disk Management does not allow you to merge partition directly. Although you are not allowed to combine two partitions together directly with disk management in Windows XP, you can still use Disk Management to redistribute disk space and merge partitions on your computer.
Why You Need to Combine Two Partitions on Windows XP?
You may want to combine two partitions together in following situations:
1. There are two many partitions on the same disk on Windows XP, so you want to merge two partitions together.
2. One partition, especially system partition is nearly full on the hard drive, but some other partitions on the same hard drive are still empty. Therefore, you want to erge the empty partition m to the system partition so as to increase the size of system partition.
3. You want to merge two partitions because both of them contain the same or similar types of data.
Of course! There are some other situations that you probably need to merge two partitions in Windows XP.
Free to Merge Two Data Partitions without Losing Data on Windows XP
If you just want to merge two data partitions in order to create a larger partition on your computer, you can follow the steps below to accomplish this task without relying on any other tools:
Step1. Move all important data from these two partitions to another partition or external hard drive.
Step2. Open Disk Management on Windows XP by clicking My Computer > Manage > Disk Management
Step3. Right click one of the partitions that you want to merge and then click Delete Partition option.
Step4. Click Yes to confirm to delete the selected partition.
Step5. Right click the other partition that you want to merge and then click Delete Partition option and also click Yes button to confirm to delete it.
Step6. The deleted two partitions will show as unallocated partition under Disk Management. You only need to right click the unallocated partition and click New Partition option.
Step7. Follow the New Partition Wizard to create a new partition. And then, you can format the new partition and assign a drive letter to this partition to make it usable for data storage.
Free to Combine C Drive with Another Partition on Windows XP
It is usually more difficult if you need to combine C drive with another partition on Windows XP because PC does not allow you to delete C drive. Therefore, you cannot use the method above to merge a data partition to C drive. In this situation, you have to reinstall Windows XP operating system and then repartition hard drive on your computer. It usually spends much time to reinstall system and reformat disk to reallocate disk space. Therefore, many PC users do not like to use this method to combine C drive with other partition.
Free to Merge System Partition to Other Partitions without Reinstall or Data Loss in Windows XP
In fact, you can merge system partition to another partition without reinstalling system on Windows XP by using partition software. IM-Magic Partition Resizer Free is a partition magic tool which is able to work on Windows XP OS to redistribute disk space. You can use it to combine another partition to system partition without reinstalling system or losing any data. Usually, you can use this software to merge C drive to another partition when system partition is running out of disk space on Windows XP.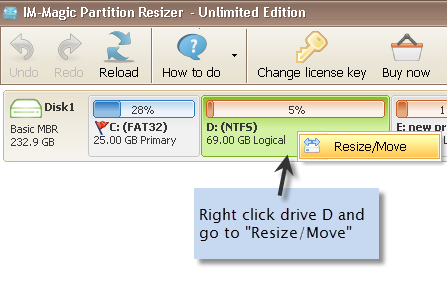 Download IM-Magic Partition Resizer Free Edition