Can you merge Windows partitions for free to expand the space of C drive? You may find different solutions for C drive low disk space problem on Windows PC, but most of them are not useful. For example, you may be advised to free up disk space on C drive, cleanup cookies on C drive and deleting junk files on C partition and so on. However, the C drive might still show low disk space warning message after performing those operations to free up disk space. The best way to fix the problem is to increase the size of C drive on Windows system, which merging partitions is a common way to extend C drive on Windows.
Free to Combine Windows Partition to Extend C Drive under Disk Management
Every Windows PC has Disk Management, with which you can free to mange disk space such as formatting disk partition, delete partition, change drive letter and paths and more. If your PC runs under Windows 10, 8, 7, or Windows Vista operating system, you can run Disk Management to combine partitions for C drive increasing.
More information about:
>> Windows 10 Disk Management
>> Windows 8 Disk Management
>> Windows 7 Disk Management
You can combine Windows partition to expand C drive space with about two simple steps under Disk Management:
Step1. Open Disk Management on Windows PC. Then, right click D drive which shows behind C drive and click Delete Volume option.
Step2. You can get some unallocated space after deleting D drive. Then, right click C drive and click Extend Volume option to add the unallocated space to C partition.
With the two steps above, you can combine C drive with D drive easily. However, you should remember to move all data from D drive to another place before deleting it if you do not want to lose any data due to deleting.
Can you merge another partition to C drive except D drive on Windows?
Are you wondering if it is possible to merge another partition like E drive or F drive to C drive so as to increase the size of system partition on Windows 10 8 7 Vista? Without deleting D drive, you are not able to merge E drive or F drive to C partition because the you cannot add non-adjacent unallocated space to C drive.
Free to Merge Windows XP Partitions with System Reinstall
If you just want to merge two data partitions on Windows XP, you can also use Disk Management in Windows XP to delete those two partitions and then create a new partition with the unallocated space. However, it is not able to merge another partition to system partition with Windows XP Disk Management. In this situation, you have to reinstall Windows XP operating system and then repartition hard disk during system reinstalling. You can resize system partition with system reinstalling so as to increase its size on your computer.
You can also resize hard drive to extend C drive by system reinstalling on other Windows including Windows Vista, Windows 7, Windows 8 and Windows 10.
Free to Increase Size of C Drive with Windows Partition Tool
If you can use a partition tool for Windows, you can easily increase the size of C drive by adding free space from any other partition on the same hard disk. IM-Magic Partition Resizer Free is a freeware that supports Windows XP, Vista, 7, 8, 10 to resize hard disk. With this partition tool, you can squeeze free space from another partition that has much free space to expand C drive space. You do not need to delete any partition to create unallocated space because IM-Magic Partition Resizer Free enables you to shrink partition to produce unallocated space.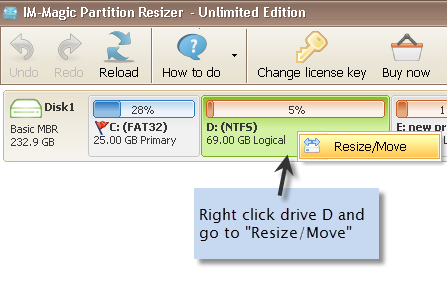 Download IM-Magic Partition Resizer Free Edition