Why you need to free up disk space on Windows server
Disk space plays a major role in making sure your computer process runs smoothly and efficiently. If the low disk space warning pops up on your computer, you can expect to have crashes, lags, and unexpected losses of data. It is a warning that shows up too late but demands immediate action. The space you allocate in your computer for processes makes the best of systems into the worst of systems and vice versa. So, here is the key to a successful computing experience: keep a lot of disk space free so that you never have to experience a crash again.
However, the modern day computers may feature plenty of space but servers still face space constraints. Just like any space, physical or virtual, management of that space is essential. So, let us take a look at a few ways that disk space can be managed across computers.
How to Free Up Space on C Drive Windows Server 2008 R2?
The low disk space warning was created so that users could proactively react when their computers were dealing with low disk space that may inconvenience them as they used their computers. A few of the problems that arise with the low disk space warning are:
Windows updates or any applications cannot be installed.
Systems are run at a much slower speed.
This server cannot be connected to.
The system will experience unexpected crashes if it has low C drive space.
In order to free up space on your C drive while running the Windows Server 2008 R2, there are a few avenues you can explore. One of which is to clear out temporary files. Temporary files are a necessary evil. They allow you to load software, images, and websites much quicker because your hard drive already has parts of it downloaded and kept. These are temporary files that assist you in your everyday working. However, you do not need these files to stick around any longer than you want. You can remove these files without any repercussions and enjoy greater free space on your C drive. Simply follow the method below to enjoy more space.
Click Start > Run, input "%temp%" or open directory using a step by step method which is: "C:\Users\Administrator\AppData\Local\Temp"
Delete old Shadow Copies
Open "My Computer", right-click on C drive, select Properties, switch to "Shadow Copies" tab, and click delete old volume copies.
Alternatively, you could manage the size of your recycle bin. Instead of just letting files sit in your recycle bin, which serves as an alternate folder, not a solution of disposal until you choose to permanently delete file. In this case, you may click on Recycle Bin, right click to select all and then right click to permanently delete.
In addition, you could also manage the size of your recycle bin to limit the amount of storage used. In order to decrease the Recycle Bin disk usage size, Right-click Recycle Bin > Properties, you can custom size with no further ado.
Free Up Disk Space on C Drive for SBS 2008
SBS 2008 introduces the majority of its highlights utilizing a solitary volume (C:), there are devices accessible to move a portion of the information to different areas, yet various organizers that stay in the C: volume can keep on growing if left unchecked, this can possibly eat all the accessible plate space on the C: drive. Once the C: drive achieves certain low space edges, a few administrations will quit working appropriately on the server, while others will change their conduct to counteract information misfortune.
Resize Partitions with IM-Magic Partition Resizer Server
If you are looking for a fix all to all your disk clean up solutions for the server 2008, look no further than the IM-Magic Partition Resizer Server edition which looks after all your partition resizing needs by allowing you to manage your space using an expert partition software.
It is easy to use, you can drag the size bar to control the partition size, you can extend, shrink the partition easily.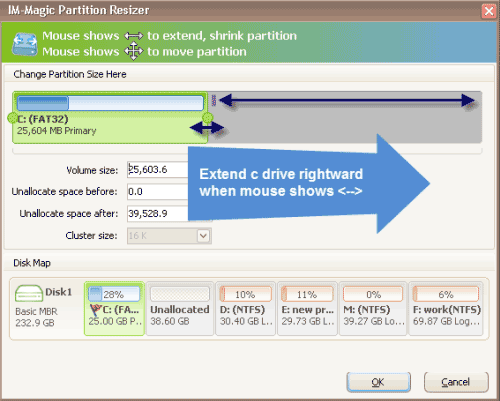 Resize partitions with IM-Magic Partition Resizer
This is no doubt the best solution to free up disk space in Windows server system.
[Guide] Steps to extend volume without data loss

This step by step guide will show you the right way to extend any volume using  IM-Magic Partition Resizer Unlimited edition.
Step-1  Download install, and launch the program.
Step-2 Right click the large volume to produce unallocated free space.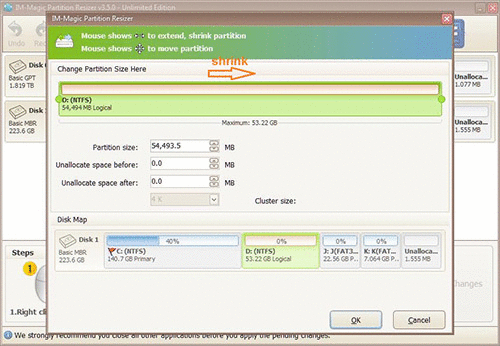 Steps to resize your disk partition
Step-3  Then right click c and drag the border to acquire the free space.

Steps to resize your disk partition
Step-4 Apply the changes.
Now you can free download here: