Summary
Freeing up our disk space is, therefore, an essential task to ensure that our computers smoothly run and get our tasks done. There are many ways to free up the disk space on Windows 8. Some of those ways will be discussed presently.
Table of Contents
The Importance of Freeing Up Disk Space
Our disk space will eventually get filled up no matter how large they may be. This is so because with every passing day also increases our need to store more and more files. The truth is this, we store files on our PCs every day, both the ones we need and those we don't.
The importance of freeing up your disk space cannot be overemphasised. Your computer needs the free space to run smoothly. And this is why your free space starts running below 200 MB; the windows will keep bringing warnings and telling you to free some space up. This is so as some of the apps on your computers need space to be efficient in handling your tasks. Some apps would not even run when the space to do so is not available. You would not be able to install newer apps on your computer if you are out of space or low on disk space. The worst case scenario for a crammed disk is that your OS could crash out, making you lose all your important files and data. That could especially be very painful.
Ways to Free up Disk Space on Windows 8
There are many ways to free up your disk space. One very common ways to free some space up is by emptying your recycle bin. We delete so many large files our computers that we give so little thought to where they end up. A fast heads up, they all go into your recycle bin to take space. They are not entirely of your system. This is why the first place to look to free space is the recycle bin. Another way is by uninstalling all the apps you do not need. Delete all redundant apps off your system so you can have some space. Game apps, for instance, take much space on our disk. So you should delete those unneeded game apps. Another way to save space is to delete large media files that are of no need for you anymore. You will be amazed at how much space you could amass through those ways. On Windows 8, to see all those ways you could free disk space all at once, type 'free' in the search bar and click on Free Up Space menu. There you should be able to delete large files, empty the recycle bin and uninstall any app.
Using Freeware to Extend Partition
Another way to free up space is by extending your partition. Though there are many ways you could do this, using IM-Magic Partition Resizer free is the best way that ensures you do not lose data in the process. And it is a totally free software, you can trust it.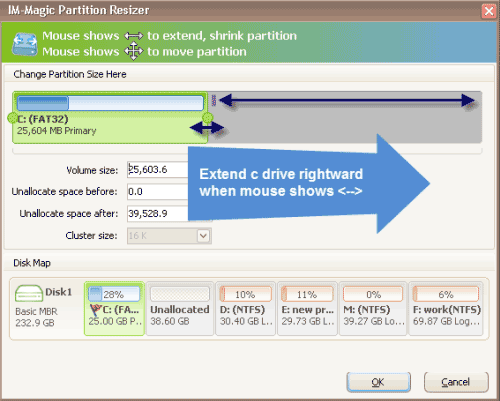 Extend the partition with freeware