How can you expand the C drive space without having to format it on Windows PC? Some people like to reinstall Windows operating system and format C drive, and then repartition the hard disk so as to increase the size of C drive when they receive low disk space alert message on their computer. However, as a matter of fact, you can extend the C drive space without needing to repartition and format the disk.
Free to Extend C Drive without Formatting on Windows Vista 7 8 10
Simply say, you need to move some free space from another partition on the same hard disk if you want to extend C drive space on your computer. Without having to repartition hard drive, you can use Disk Management on Windows Vista, Windows 7, Windows 8 and Windows 10 to squeeze unallocated space from other partitions by deleting or shrinking partition. Therefore, you do not need to format C drive and reinstall system to increase its space on Windows Vista, 7, 8, 10.
Shrink Partition vs. Delete Partition
Under Disk Management of Windows 10, 8, 7, Vista, there are "Delete Volume" and "Shrink Volume" options. If there is no existing unallocated space showing under Disk Management, you can get unallocated by shrinking or deleting partition.
Delete Partition – If you select "Delete Volume" option to produce unallocated space, all data stored on this partition will be deleted accordingly. However, you can get contiguous unallocated space behind C drive by deleting D drive.
Shrink Partition – If you choose "Shrink Volume" option, it does not delete any data. However, the shortcoming is that the unallocated space usually does not show close to C drive.
It is a key point to get adjacent unallocated space behind C drive if you want to increase its size successfully. Therefore, it is highly recommended you to delete D partition to create unallocated space so that you can add it to C drive.
Guide to extend C drive with Disk Management:
Step1. Right click D drive and select "Shrink Volume" option to delete this partition.
Step2. Right click C drive and select "Extend Volume" option to add the unallocated space to C drive.
Increase C Drive without Formatting It on Windows 2008 / 2012
You can follow the guide above to increase the size of C drive under Disk Management on Windows Server 2008, SBS 2008, Windows Server 2008 R2, Windows Server 2012, Windows Server 2012 R2.
Free to Expand C Partition without Format Windows XP
Although you can produce unallocated space by deleting partition with Windows XP Disk Management, the bad thing is that disk management in Windows XP has no ability to extend partition. Because of this, people have to reinstall system and reformat disk to reallocate disk space to C drive on Windows XP. It is true that it is waste of time to backup data, reinstall system, repartition hard drive and reformat partition. Therefore, if you are looking for an easy solution for Windows XP C drive increasing without formatting, you can use Windows XP partition tool.
Free Partition Software for Windows C Drive Extending without Format It
Do you want to get a free partition manger with which you can easily extend C drive without having to format it on Windows? You can use IM-Magic Partition Resizer Free, a free partition magic tool for all Windows OS including Windows XP, Vista, 7, 8, 10. This partition software works similarly to Windows built-in disk management tool, but it enables you to move partition so that you can windows server 2008 partition software even if it is not adjacent to C drive.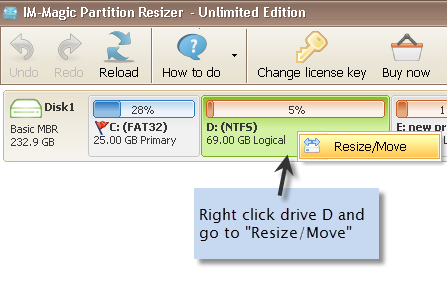 Download IM-Magic Partition Resizer Free Edition