Sometimes, you may want to delete one or more partitions on Windows 10 because there are too many partitions on the computer. As a matter of fact, you probably want to delete partition on your computer due to thousands of reasons. It does not matter why you need to delete a partition on Windows 10, you can rely on Windows 10 built-on tool to perform the operation. Or you can easily accomplish the task with help of a freeware IM-Magic Partition Resizer Free.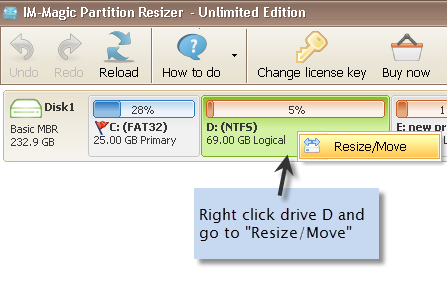 Reasons to Delete Partition on Windows 10
Here are some possible reasons why you want to delete partition on your computer which runs Windows 10 operating system:
1. There are too many partitions on your PC that runs Windows 10 OS.
It is the most common reason for many people to delete partition on their computer. If your computer contains too many partitions, it might be difficult to efficiently find the data you need. Therefore, there is no need to remain too many partitions on a computer.
2. Disk partition is corrupted or damaged
Disk partition might be corrupted or damaged due to many reasons, in which situation somebody would like to delete the corrupted partition to resolve the problem.
3. System partition runs on low disk space
You may delete a partition to crate some unallocated space in order to add it to another partition when system partition is full and reports low disk space warning message.
Free Delete Partition with Windows 10 Disk Management
As you know, Disk Management on any Windows operating system is able to manage disk space free and easily. You can open Windows 10 disk management to delete partition. You can follow the steps below to open Disk Management in Windows 10:
1. Right click "This PC" and select "Manage"
2. Click "Disk Management" after opening the Computer Management windows
You can see all disk partition after entering the "Disk Management" on your computer. You just need to select the partition you want to delete and click "Delete Volume" option. Then, you will receive a dialog box to alert you that all data will be lost. The selected partition will be deleted successfully once you click "Yes" to confirm the deletion.
With Disk Management, you can delete partition in Windows 10 for free without relying on any other software.
How to Delete Partition Using Diskpart on Windows 10?
Diskpart is a command under Windows operating system, which allows users to create partition, delete partition,merge partition , extend partition and shrink partition, etc. You just need to click "Start" button and select "Run" option, and then type DiskPart.exe to open the Diskpart command. And finally, you can select a partition to get it deleted with Diskpart command. Usually, it is more complex to delete partition by running Diskpart command. Therefore, you had better not use this method if you are not familiar with it.
Tips for Windows 10 Partition Deletion
1. You have to log in as an administrator when you want to delete a partition on your Windows 10 computer.
2. Windows 10 Disk Management grayed out if you attempt to delete a primary partition or system partition. In addition, you are not allowed to delete partition when there is only one partition on your computer.
3. You should know that all data on this partition will be deleted accordingly when you perform delete option, so you should backup all important data before deleting.
Where Is the Partition after Deleting on Windows 10?
Where is the partition after deleting on Windows 10? Do you think that it will disappear permanently? Well, when you deleted an internal hard disk partition on your computer, the deleted partition will show as an unallocated volume and becomes inaccessible. As a matter of fact, you can still restore the deleted partition, but all data stored on this partition cannot be restored unless you can use a data recovery tool.
What Can You Do after Delete Partition in Windows 10?
Since the disk space shows as unallocated volume after deleting partition, you can do something with the unallocated space. For example:
1. You can add the unallocated space to another partition so as to fix low disk space problem. When any partition is running out of disk space, you need to add unallocated space in order to increase the size of this partition. Usually, you can extend C drive with unallocated space on your computer. Or you can extend any data partition with the unallocated space.
2. You can create a new partition with the unallocated space.
How to Delete Partition in Windows 10 with Freeware?
In addition to relying on Windows 10 built-in tool, you can also delete partition on Windows 10 with free partition software IM-Magic Partition Resizer Free. This partition software enables you to delete any partition with a few mouse clicks. You also need to backup data before deleting partition with free partition software.
Download IM-Magic Partition Resizer Free Edition