How can you extend system partition on Windows 8? Probably, you never thought that you will need to perform system partition resizing when you buy a new computer and install Windows 8 operating system on it. For some people, they even believe that each partition on their computer has an unchanged capacity after installing a hard drive on it. Many people do not know that it is able to resize partition to redistribute disk space, so they just simply delete files, uninstall programs and free up disk space to get free space when system partition is running out of disk space. If you meet low disk space problem on Windows 8 system partition, you can resize disk either with a partition tool or using Windows 8 built-in disk manage tool.
Why Need to System Windows 8 System Partition C?
You may want to extend system partition on Windows 8 in following situations:
1. Windows 8 frequently reports low disk space alert message on C drive when you boot your computer.
2. There is not enough free space on C drive, due to which you fail to upgrade your PC from Windows 8 to Windows 10.
3. Windows 8 often crashes and stops working because system partition has insufficient free space
4. Your computer runs more and more slowly and it often freezes up
You may need to expand system partition on Windows 8 due to more other reasons. Anyway, you can increase size of C drive on Windows 8 with different methods as long as there is free space on other partitions on the same hard drive.
Extend System Partition in Windows 8 with Disk Management
There is built-in disk manage tool in Windows 8, with which you can free to redistribute disk space when any partition is running on low disk space. If you need to extend Windows 8 system partition, you can open Windows 8 Disk Management on your computer. Then, you can shrink a volume to squeeze some unallocated space from the selected volume. Usually, you had better shrink the volume that has much free space so that you can get more free space to add it to the system partition. After getting unallocated space, you can add it to system partition by right clicking C drive and select "Extend Volume" option.
Tip: You can also delete a volume under Windows 8 Disk Management to get some unallocated space, but you should know that all files stored on the deleted volume will be erased at the same time.
Limitations of Windows 8 Disk Management
You can perform partition resizing under Disk Management in Windows 8, but you may find that you always fail to extend system partition finally because the "Extend Volume" option is grayed out. If you meet this problem that Windows 8 Disk Management grayed out fails to extend volume, you can check if the unallocated space is right behind the C drive. You usually fail to extend system partition on Windows 8 Disk Management because there is no contiguous unallocated space.
Free to Expand C Drive in Windows 8
You have another choice to extend C drive in Windows 8, namely use free partition software for Windows 8. IM-Magic Partition Resizer Free is a completely free partition manager tool that supports all Windows system, with which you can free reallocate disk space on Windows 8 or other Windows platform when Disk Management does not allow you to extend C drive. This partition software does not have any limitation for system partition resizing on Windows 8 by shrinking partition, deleting partition and then extend partition.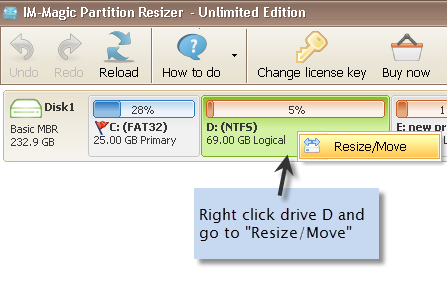 Download IM-Magic Partition Resizer Free Edition