Sometimes, you will receive an alert message telling that you are running very low disk space on local disk partition when you attempt to open any partition on Windows 7.
This article shares 3 methods that is totally free for you to remove the low disk space alert on Win7.
Table of Contents
Solution for Disabling low disk space alert in Windows 7
If you insist on fixing the low disk space problem on Windows 7 data partition, you can try following things:
1. You can move some files to another partition. This is the simplest way to fix the problem, but you had better copy files from this partition to another one instead of cutting files in order to avoid data loss during cutting and pasting process. After moving those files to another partition, you can delete them from this partition and empty recycle bin.
2. You can show all hidden files and then delete all unnecessary files. You should remember to empty recycle bin if you want to free up disk space by deleting files on Windows 7 data partition.
3. You can also add another new hard drive as storage media in Windows 7. You should add a hard drive which is compatible with the Windows 7 if you want it to work normally.
Fix System Partition Low Disk Space on Windows 7 with Disk Management
In order to reallocate disk space on Windows 7, you can run Windows 7 Disk Management to perform such a task to shrink volume, extend volume etc.

Probably you know that you can shrink partition and extend partition under Disk Management of Windows 7, but you usually fail to add free space to system partition with this method because Disk Management does not allow you to move partition. If you really want to fix low disk space on Windows 7 C drive with Disk Management, you can follow the steps below:
Step1. Open D drive (which shows behind C drive) in My Computer and then move all files from D drive to another drive which has enough available space.
Step2. When D drive contains no data, you can open Disk Management. Now, right click D drive and click "Delete Volume" option to delete D drive.

Step3. D drive will show as unallocated space after deleting. Now, you can right click C drive under Disk Management and then click "Extend Volume" option to add the unallocated space to C drive.
100% Free Partition Software for Windows 7 to Resolve Low Disk Space Issue
You can also rely on free partition software for Windows 7 to resize hard drive so that you can resolve the low disk space problem either on system partition or data partition easily. IM-Magic Partition Resizer Free is a free partition manger that is able to work on Windows 7 to fix low disk space on any partition without reinstalling system or touching previous data.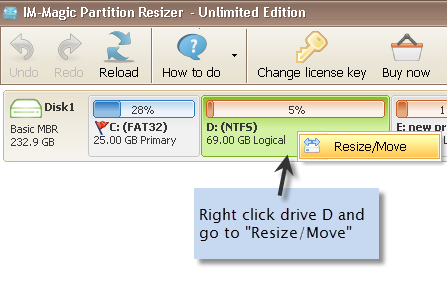 Download IM-Magic Partition Resizer Free Edition