How to resize partition on Windows 8? As a matter of fact, Windows has improved its performance so that its users can manage disk space more effectively and efficiently. For example, you may have to rely on third-party partition software if you want to resize hard drive on Windows XP. However, when comes to Windows 8, you can easily resize partition with Windows built-in Disk Management tool.
Situations That You Need to Resize Windows 8 Disk Partition
You may want to resize hard drive on Windows 8 due to different reasons. Here are some (but not all) common situations that you may need to resize disk partition on Windows 8:
1. You receive low disk space warning message after or when booting your computer. Usually, Windows 8 reports the low disk space alert when C drive system partition is running out of disk space. You cannot ignore the message if you do not run into any trouble resulting from the low disk space issue.
2. Windows 8 probably does not say any low disk space warning sometimes, because you have disabled the low disk space warning. If you find that the C drive shows red bar, it is necessary to reallocate disk space even if you have never gotten any warning message asking you to free up disk space.
3. There is only one partition on your computer. It is not good if there is only one partition on your computer because you have to install Windows 8 operating system and store all other data on the same partition. In this situation, you had better resize partition so as to create more than one partition to save different kinds of data.
Windows 8 Disk Management to Resize Partition
If you want to resize partition when encountering similar situations above, you can open Windows 8 Disk Management to perform the task.
Step1. Right click "Computer" on Windows 8 desktop. Then, you can click "Manage" and click "Disk Management.
Step2. After entering Windows 8 Disk Management, you can see all partitions on your computer. Now, you just need to right click a partition that has enough free space and then click "Shrink Volume" option.
Step3. You can enter the amount of space you want to shrink and click "Shrink" button.
Step4. You can get some unallocated space when the shrinking is completed.
Step5. Right click the drive that is contiguous to the unallocated space and click "Extend Volume".
Pay attention:
If you want to extend the volume which is not contiguous to the unallocated space under Disk Management on Windows 8, you have to delete the partition between the unallocated volume and the partition you want to extend.
Reallocating Partition Failed under Disk Management in Win8
As mentioned above, Disk Management cannot move partition, in which situation you usually fail to resize partition finally because there is one or more partitions between the partition you want to extend and the unallocated volume. It is not a good idea to delete the partition (s) between the unallocated space and the partition you want to expand (such as system partition) because all data will be erased after deleting the partition.
Free Partition Software to Redistribute Disk under Windows 8
Partition software refers to the software that allows you to redistribute disk space without deleting data. IM-Magic Partition Resizer Free is a free partition magic that is able to work not only on Window 8 but also other Windows platform to resize hard drive no matter you want to extend volume, shrink volume, move partition, delete volume or more.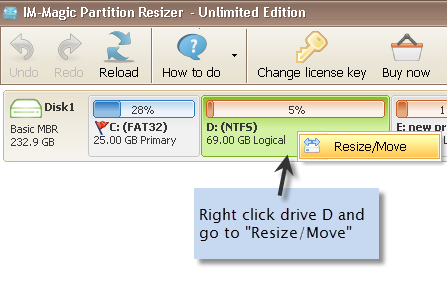 Download IM-Magic Partition Resizer Free Edition