Summary
This article is about how to solve the problem when your computer pops out low disk space alert message, you can try the solutions in this article to extend your partition space without data loss.
How to Solve Low Disk Space Alert on Windows Server
Low disk space can be pretty annoying especially when you are using your desktop or laptop for something urgent. For this reasons and many more, we would be considering how to fix low disk space alert on your window server 2012 r2.
It's easy to know when you are running low on disk space. This is due to the fact that most system will alert window server that the space left is reducing. However, do not let this get you down. Here are some ways in which you solve low disk space on your window server;
1. DISK CLEAN UP: almost every system has an inbuilt disk cleanup tool which can be effective in solving problems associated with low disk space. You can assess this tool anytime you want by going to properties after right-clicking on your system. Here you will see the option of the disk cleanup. Then you would have the opportunity to choose the type of files which you would like to be cleaned. This would ensure that you have more disk space to work within your server.
2. DISK MANAGEMENT: Another way in which you can solve low disk space is through disk management. This will show you in clearer details what file is taking up space in your disk and what you can do to free up space in your disk.
Easiest solution to Extend Disk Partition
If none of the above methods works, you can always choose to get a third party partition manage tool tool. One such tool is the IM-Magic Partition Resizer Server. This tool will help you to lessen the amount of disk space being used by redistributing the volume of data on your disk. It would do this by extending different parts of your disk space without causing any sort of loss of data. In order words, this means that the IM-Magic Partition Resizer Server has the ability to reduce, rearrange data without destroying or corrupting any data in your system.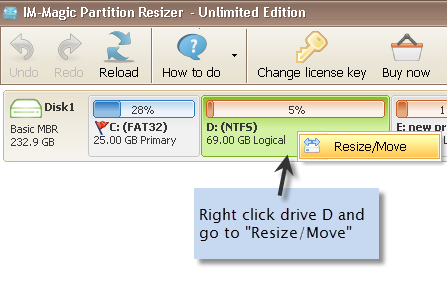 Resize partition on Windows with partition tool
WHY USE IM-MAGIC PARTITION RESIZER SERVER ON YOUR WINDOW SERVER R2?
The reasons why you should use this tool are numerous. One of such reasons is the ability of this tool to significantly increase the amount of volume of data the C drive is able to take. This is
essential due to the fact that it literally stops your system from distributing or reformatting your data or disk.
This tool also has the features which would ensure that your data is never ruined. This is made possible due to its powerful roll-back option which protects your data even in the event of an unplanned shutdown.
It also resizes all your data in your system thereby rearranging it and giving you more disk space to work with, this essential especially when you are almost out of disk space or if you hardly have any data on your system.
Solving your low disk issue is not an impossible task and IM-Partition Resizer server makes it so much easier.
[Guide] Steps to extend volume without data loss
This step by step guide will show you the right way to extend any volume using  IM-Magic Partition Resizer Unlimited edition.
Step-1  Download install, and launch the program.
Step-2 Right click the large volume to produce unallocated free space.

Steps to resize your disk partition
Step-3  Then right click c and drag the border to acquire the free space.

Steps to resize your disk partition
Step-4 Apply the changes.