Summary
Low disk space warning on the Windows system? Don't worry, this article will show you how to fix low disk space in Windows 10.
Table of Contents
Introduction
Windows 10 though offer multiple facilities, an incredible UI with other updates and stuff, but it has got a really tangled issue as well. The automatic updates in Windows 10 are a mess. Low disk space in Windows 10 is the most annoying problem of all.
Well, it does not stop right here when your PC or laptop is on low disk space Windows 10 start to give you notifications and certain Warning messages, as to please arrange for more disk space or soon your data and files will fail to safe. Moreover, the messages keep on coming and they never stop which makes it kind of weird. But don't worry we will do a complete evaluation of this matter to its very depth and will come up a solution for you.
Let's cut to the chase.
What is low disk warning
It is basically a warning message posted on regular basis by the Windows that you are running out of the space and needs to delete old and unnecessary files to proceed further.
Now let us move towards low disk space windows 10 fix. There are many practical ways to do so, like for starters you can disable this annoying message as "Low disk space Windows 10 after update" it is true after constant updates this error message becomes more and more frequent. Now, moving towards the most critical point of interest of this article.
How to turn off disable/remove low disk space warning on windows 10
Well, the above mentioned problem can be solved, you can actually disable or remove the warning signs but they take some serious effort and work.
The only viable solution is to shut down the warning messages using registry editor, Remember that it is very powerful tool and any misuse or wrong interpretation can leave the system unstable or even inoperable.
All you have to do is to open the registry editor by typing "regedit" into the search box and proceed towards the following location;
HKEY_CURRENT_USER\SOFTWARE\Microsoft\CurrentVersion\Policies\Explorer
In the explorer section you will have to create a new value named NoLowDiskSpaceChecks and give it value 1.
Increase the C drive in Windows 10 for free
Hopefully, this will rectify the problem and you will stop seeing further notifications about the low disk space. You have successfully changed the low disk space warning windows 10. Though if you are in search of a more prominent solution then you may want to consider our product IM-Magic Partition Resizer Freeware Edition, this incredible tool can help you to create, delete, merge and extend partitions without losing any data whatsoever. This will give a perfect answer to the question that How to increase the C drive in Windows 10 and also disabling the error messages for good.

Let us get back to the chase, the steps mentioned below are straightforward and require very less expertise, bottom line is that anyone with this incredible tool can help themselves;
1.Launch the IM-Magic Partition Resizer Freeware Edition and allow the disk map to load properly.
2.After select the C drive and Right click over it, now select the "Move/Resize" partition. A new window shall open in front of you.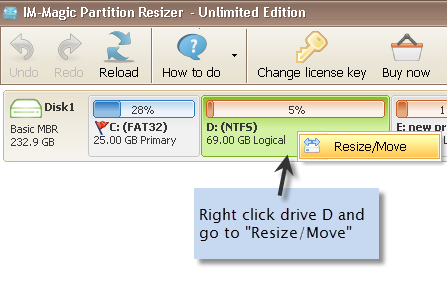 Resize partition with IM-Magic Partition Resizer
3.Move your cursor along the right side to increase or extend the size of C partition, stop where you presume that this is the size you want to increase.
Steps to resize your partition when you can not extend volume
4.Now, click "Yes" for the operation to take place, you'll also be asked to select the drive from which you want to squeeze out the space.
5.After the process has been completed, click "Save Changes" and exit the tool.
Your C drive on Windows 10 has been successfully extended and you won't be getting any space error issues or notifications as well. If you want to download this amazing tool, please visit our website;