Summary
If you find your computer run slower, you can check if the system drive is full of data and manage your disk partition space. This page introduces some useful suggestions for you to extend the disk partitions when your computer shows low disk space alert.
Table of Contents
Windows SBS 2008 is a small business server edition and very popular among business people. Like in other editions, you may encounter space issues and you have to increase the space by extending partition .
Server sbs 2008 low disk space
Since your all your business applications and Windows features are installed on C drive, and the background services applications like exchange server also run on C drive, you would soon face the space problem. When your C drive reaches to minimum space limit, your system becomes slow. The services which are running in the background may run slowly or may not run. You cannot install any new software.The Windows and application's log and error files are also generated on C drive In short, C drive holds everything that is required to keep your system running.
The situation becomes a nightmare when the Exchange server stops receiving or sending emails because of disk space issue. To fix low disk space windows sbs 2008 problem you can perform basic disk clean up activity. Like, you can remove the temporary files, log and error files by running disk cleanup tool. There are other things also you can do like disabling logging feature in IIS, deleting the certificate logs, deleting unwanted emails and disabling windows sbs licensing log.
Extend c drive, small business server 2008
Since it is a business server, and you cannot delete your important data files or uninstall required software for your business. The only solution without spending any extra money is to extend your C drive by allocating the free unallocated space from other partitions in the same hard disk.
Extending C drive in small business server 2008 is done without formatting your C drive.
When you go to Windows small business server 2008 disk management , you see all the partitions of your hard drive. If there is no unallocated space partition as shown in the below picture, then you must create it first.
Extend c drive on Windows server 2008 
The normal process to create an unallocated space is shrinking the other drive which is next to C drive. But when you shrink, the unallocated partititon is created next to the same drive and not to C drive. This will not allow you to extend the C drive unless the unallocated space is behind the C drive. Moving the unallocated space to C drive is not possible in Windows small business server 2008 disk management. If you are sure you do not have any issue in deleting the drive next to C drive, you can simply delete the partition. Deleting a partition means you are loosing your data. Backup your data first before deleting the partition. Once you delete the partition from disk management tool, you will see unallocated space right side of your C drive. Just right click your C drive partition and click on extend.
As we saw we cannot move the unallocated space behind the C drive and cannot extend our C drive from Windows disk management tool.
There are excellent third-party resizing tools available and I will suggest you try IM-Magic Partition Resizer SERVER edition

Extend Partition with IM-Magic Partition Resizer SERVER edition
IM-Magic Partition Resizer SERVER edition is exclusively developed for Windows server like Windows SBS server 2018. The tool is very simple to use. You just drag and drop the unallocated space next to C drive and make C drive expandable.
The tool is used not only for moving or extending,the other resizing tasks can also be done easily like shrinking, deleting,formatting,converting file system. Your data is always safe when you do the resizing task. It does not touch your files and the roll-back technique keeps it more safe when the system is shut down during resizing.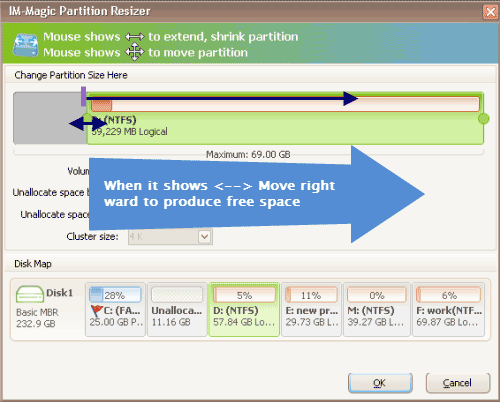 Resize Partition with IM-Magic Partition Resizer FREE edition
The IM-Magic Partition Resizer SERVER edition is a program designed for Windows server systems, you can download the Unlimited version which can be used for all the systems.
[Guide] Steps to extend volume without data loss
This step by step guide will show you the right way to extend any volume using  IM-Magic Partition Resizer Unlimited edition.
Step-1  Download install, and launch the program.
Step-2 Right click the large volume to produce unallocated free space.

Steps to resize your disk partition
Step-3  Then right click c and drag the border to acquire the free space.

Steps to resize your disk partition
Step-4 Apply the changes.
Download the Free trial and see how it delivers what you want.For more details, visit https://www.resize-c.com/server/