Summary
This article is going to talk about the solution to make space for Windows SBS 2003 partition when it runs on low disk space.

SBS 2003 Partition Software Download
Download IM-Magic Partition Resizer Server to reallocate disk space on Windows SBS 2003 when it is lacking of free space.
SBS 2003 Resize Disk Partition with Partition Software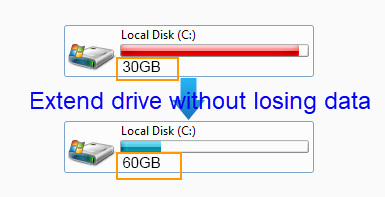 Windows system allows you to divide a hard disk into several partitions so that you can install operating system and save different kind of data. If the disk space on each partition is unreasonable, you may need to resize disk to make space for the partition that is lacking of free space. IM-Magic Partition Resizer Server is professional partition software, with which you can resize disk to reallocate disk space on all Windows Servers including Windows SBS 2003. This partition software enables you to extend disk partition, move partition and shrink disk partition without touching any data.

Steps to Make Space on SBS 2003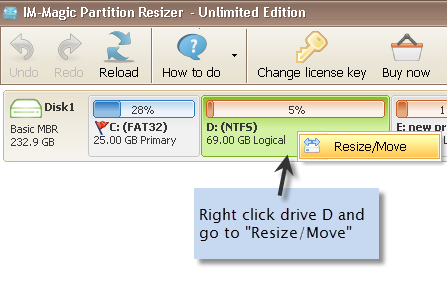 How to redistribute disk space in Windows Server
Step 1:
Download, install and run IM-Magic Partition Resizer Server. Right click a partition that has enough free space and select "Resize/Move".
Step 2:
Move the arrows to shrink the selected partition, so you can squeeze some unallocated space from the selected partition.

Steps to resize your disk partition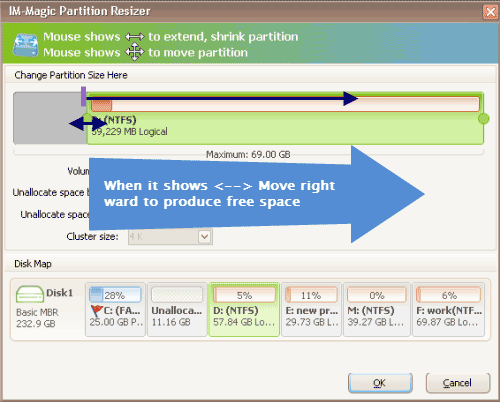 Shrink other large partition to produce free space for C drive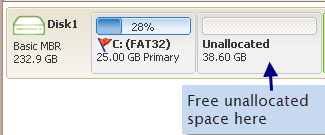 Step 3:
You need to move the unallocated space close to the partition that is running out of disk space. Then, right click this partition and choose "Resize/Move" option.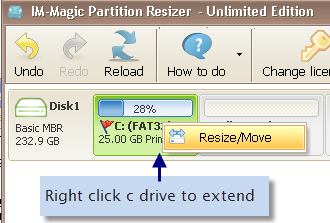 Right click c drive to get started with extending c

Steps to resize your disk partition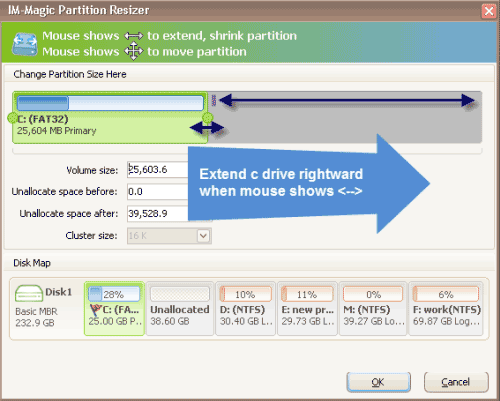 Step 4:
Move the arrows to add the unallocated space to the selected partition and click "Apply" button.
Download IM-Magic Partition Resizer Server Edition


Need Space on SBS 2003
"My PC with Windows SBS 2003 operating system is running on low disk space on system partition and my PC runs more and more slowly. When I boot my PC, Windows always pops up low disk space warning message to ask me to delete files to free up space on the system partition. I have never met such kind of problem before. Is there anybody run into the similar problem? Can you tell me how to fix the low disk space on Windows SBS 2003 system partition?"
"I need more space on C drive in SBS 2003 because I cannot save any data to this partition anymore due to low disk space problem. I installed a 500GB hard disk on my PC, but only allocated about 30GB space to C drive. Now, the C drive is nearly full, but the other partitions still have lots of free space. So I want to make some free space from other partitions to extend C drive. How can I do such a work?"
Partition Software to Help Make Space on SBS 2003
There is no better tool than professional partition software to make space on SBS 2003 disk partition. With the partition software, you can squeeze free space from any other partition on the same hard disk and then add the free space to the partition that runs on low disk space. This partition software can help resize hard disk on Windows SBS 2003 and other Windows Servers without repartitioning hard disk. Any partition like system partition, boot partition, primary partition or data partition can be extended easily by using the professional partition software.
Extend System Partition without Reinstalling
System partition is the drive on which Windows operating system is installed, so lots of people are worried about system reinstalling or system crash due to system partition resizing. If you can use the partition software, you can resize system partition without reinstalling operating system. The partition software allows you to expand the system partition space with operating system untouched. Besides, this partition software helps resize system partition without rebooting Server no matter the partition is NTFS or FAT32 file system. Even if the computer shuts down or reboot with unknown reasons during partition resizing, it does no harm to the operating system.
Resize Partition on SBS 2003 with Data Untouched
It is a nightmare if all files are lost or corrupted due to partition resizing, so IM-Magic Partition Resizer Server provides 100% safe way to help you resize disk partition with all data untouched. It does not matter you extend a system partition or data partition, you don't need to move or delete any data, but the partition software is able to resize the hard disk and keep data intact on the original place. Therefore, with IM-Magic Partition Resizer Server, you have no need to try other method such as deleting files, moving files or formatting disk partition to free up disk space.
You can also merge free space to c server 2003 to extend your c drive, which can most easily extend your system volume.

For Windows Server all versions ==> Download IM-Magic Partition Resizer Server