Summary
Download IM-Magic Partition Resizer the freeware to erase hard disk and finish the erasing job that is missing in Partition Magic.

Partition Magic Eraser Download
Download IM-Magic Partition Resizer Free to safely erase hard disk partition information without any chance of recovery 100% freeware.
Freeware as Partition Magic Alternative to Erase HDD
Can I use Partition Magic to erase data on hard drive, external hard drive to protect privacy? If you are one of the hard drive user who needs to wipe out a hard drive data, Partition Magic may not be able to help since this tool only offers functions to resize partition, merge partition, and other partition functions but no erasing hard drive partition.
Besides Partition Magic only works with the old Windows 2000 and XP OS. At this time you may need a partition magic alternative tool, Partition Resizer to erase the information on hard drive and it is totally free of charge. 100% freeware!

Partition Magic Erasing Alternative Download
Download the alternative - Partition Resizer on your Windows XP/VISTA/7/8/10 to wipe disk for free. If you need to wipe disk on Windows Server 2000/2003/2008/2012/2016 even the R2 edition, then Partition Resizer Server would be the right program to perform the erasing job to protect your disk.
How to use Partition Magic Alternative Partition Resizer to Erase Hard Disk
Preparation: you may need to download the free version of Partition Resizer and then install it on your PC.
Step one: Download&Install Partition manager software - Partition Resizer and then right click the disk partition you want to erase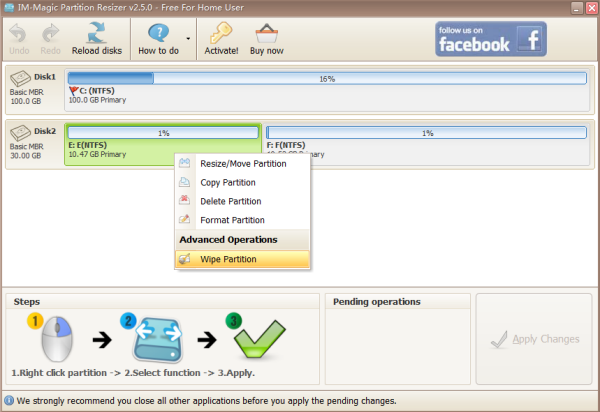 Step two: Choose the Erasing level and wait for the program to finish the erasing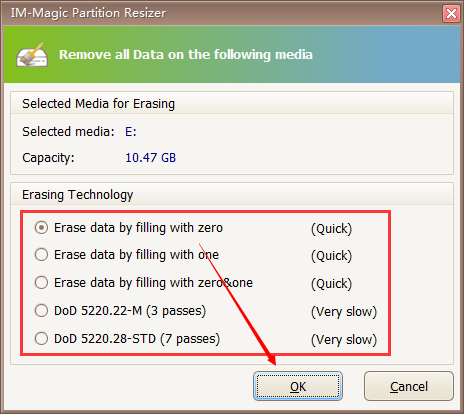 Tips: if you want to erase the whole disk, you may erase your disk partition one by one.
VERY IMPORTANT NOTE: CLEANING YOUR DISK WITH COMMAND PROMPT WOULD ERASE YOUR DATA THAT YOU CAN NO LONGER SEE THEM ON YOUR DISK.
Partition Magic Server to Erase Hard Disk Permanently
If you are using Windows Server OS and need to use a Partition Magic Server (Partition Resizer as the alternative) for erasing a Windows Server hard disk volume, it is of the same steps of above but you need to download the Partition Resizer Server Edition for the right OS. Download it here, install and launch it on Windows Server OS. It is RAID supported.
Download Partition Resizer Server to Wipe Windows Server OS 2000/2003/2008/2012/2016 R2 SBS Supported


Server Hard Drive Erasing Utility Download
Download Partition Resizer Server to Wipe Windows Server Disk from any Recovery. 100% safe without old data recovery.