Summary
If your C drive is about run out of space, you can try a partition magic tool to resize partition. This article will analyse the limitations of Partition Magic server 2016, and introduce other solutions to resize partition.
Table of Contents
Resize Partition with Partition Magic Server 2016
When you use a computer, you realize that at one point you need to resize your partition to accommodate with your new needs. Stuff like this happens all the time, no matter if you use the storage for personal or server use. There will always be a need to extend volume or even expand partition size well past its normal size. After all, you end up having too much space on a drive and not enough on the one you want to use!
Partition Magic server 2016 is a famous partition manage tool to resize partitions, while sometimes you may have trouble in extending volume with it. Don't worry, we have some better solutions for you to resize partitions easily.
Resize Partition using Windows tools
The tool Windows server 2016 can offer which actually helps expand partition size is Disk Management. The problem here is that you need to have the partitions empty. So you can't work on partitions with data on them. That's true in the case of servers too. You also have limitations when it comes to the partition size. Not to mention that some partitions and even drives may not be detected by the Windows solution. While it can work at times, the lack of reliability will make you turn to other, better tools that exist on the market!
Partition Magic Server 2016 Alternative: IM-Magic Partition Resizer
Such a tool is IM-Magic Partition Resizer Server. This is the best partition magic server 2016 tool you can use to resize, extend or shrink the Windows Server partitions in no time. The benefit you get here is that you are always in control and every partition will have the size you want. Not only that, but the program is 64 and 32-bit compatible, which means just about any server admin will be able to install this app and use it on the computer.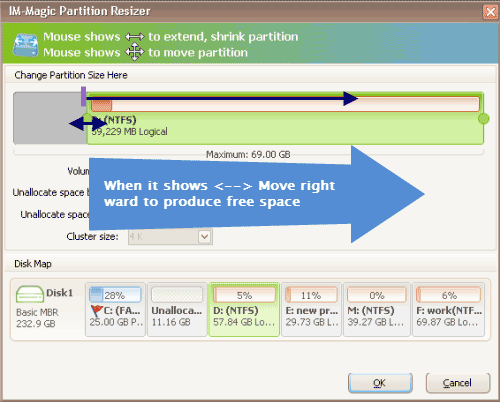 Resize partition with Partition Magic alternative tool

The entire process of expanding or extending a volume will take a few seconds. And you can easily expand drives even if they have data on them. On top of that, there's no data loss. Everything will be kept the way it is, and you can obtain incredible results in this regard. All you have to do is to check this out, and you will enjoy the results quite a bit in that perspective.
[Guide] Steps to extend volume without data loss

This step by step guide will show you the right way to extend any volume using  IM-Magic Partition Resizer Unlimited edition.
Step-1  Download install, and launch the program.
Step-2 Right click the large volume to produce unallocated free space.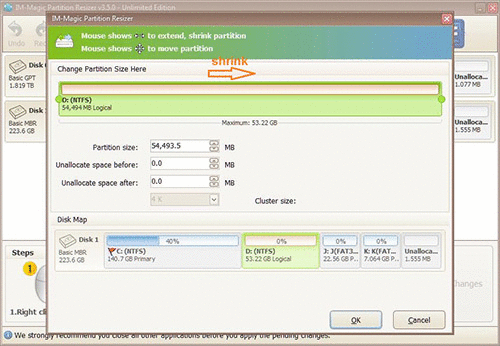 Steps to resize your disk partition
Step-3  Then right click c and drag the border to acquire the free space.

Steps to resize your disk partition
Step-4 Apply the changes.
Conclusion
If you always wanted to extend C drive or any other drive on a server, then the IM-Magic Partition Resizer Server tool is the right one for you. It's very adaptable, easy to use and it can offer you the quality and professionalism you want in a single package. We recommend you to start using this app right now if you need a trustworthy, professional server volume resizer!