Do you want to get free partition software for hard drive resizing in Windows 10? You may want to resize hard drive after upgrading to Windows 10 operating system because it occupied much free space due to system upgrading. Or you may want to resize hard drive since your computer runs slower and slower due to system partition low disk space warning on Windows 10. Partition software provides an easy and secure solution for Windows 10 partition resizing, but you can also redistribute disk space with Windows 10 built-in tool without relying on any software.
Free to Partition Hard Drive in Windows 10
When any partition is running out of disk space on Windows 10, many people will think to partition the hard drive so as to reallocate disk space. Truthfully, it is a useful method to resolve low disk space problem on system partition or data partition by repartitioning hard drive on Windows 10.
How to partition hard drive on Windows 10?
You can follow the guide below to partition hard drive under Windows 10 Disk Management:
Open "Disk Management" on Windows 10 > right click a volume that has much free space and click "Shrink Volume" > you can set the amount of space you want to shrink > you can get some unallocated space when the shrinking is completed > right click the unallocated space and click "New Simple Volume" > assign a drive letter to this volume and then format it.
Tip:
Before repartition hard drive in Windows 10, you had better backup all important data to another storage media like external hard drive or flash drive to protect your data from being lost or corrupted due to unexpected disaster.
Resize Volume on Windows 10 under Disk Management
You can not only partition hard drive on Windows 10 after opening Disk Management, but also extend volume space. After getting some unallocated space after shrinking volume, you can add the unallocated space to the partition to increase size of the partition. Since you cannot move partition on Windows 10 Disk Management, you can only expand the partition that is contiguous to the unallocated volume.
Free to Resize Hard Drive with Windows 10 Diskpart
Windows Diskpart is a little complex compared to partitioning hard drive or extending partition under Windows 10 Disk Management. Usually, you must make sure that there is existing unallocated space right beside the partition you want to extend in order to run Diskpart command to expand partition on Windows 10.
Free up Disk Space in Windows 10 without Using Partition Software
Sometimes, if there is no more free space on the hard drive on Windows 10, you can free up disk space to improve the performance of your computer instead of reallocating disk space. For example, you have two partitions on Windows 10, you may find it difficult to move free space from one partition to another when both partitions are nearly full. In this situation, you can try following methods to free up disk space:
1. Deleting all unnecessary files on each partition and uninstall unwanted programs.
2. Deleting all files stored on Recycle bin
3. Run Windows Disk cleanup tool to free up disk space so as to deleting some log files, temporary files, cookies and caches, etc.
Free Partition Software for Windows 10 Hard Drive Resizing
Although there are different solutions for partition resizing on Windows 10, partition software provides the simplest way to resolve your problem when there is no enough free space on any partition of your hard drive. IM-Magic Partition Resizer Free is a partition magic for Windows 10, with which you can resize hard drive without touching any data or partitioning the hard drive.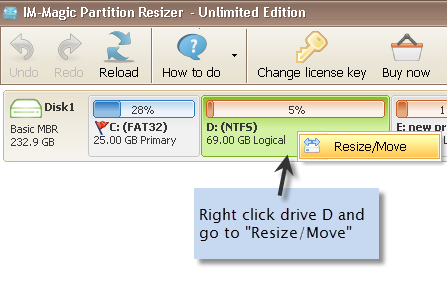 Download IM-Magic Partition Resizer Free Edition