Do you need partition software that is able to work on Windows 7 32 bit and 64 bit operating system to resize hard drive? Usually, you may need partition software when you run into following problems on Windows 7 32 / 64 bit:
You receive alert message saying system partition is running out of disk space
Windows 7 shows there is not enough available space on C drive to install Windows updates
There is no free space on disk partition data store more data on Windows 7
PC reports that you are unable to install or update a program due to insufficient free space on Windows 7 partition
When you are looking for partition software that enables you to fix the problem above, you should check your computer's operating system to see it runs Windows 7 32 bit or 64 bit. This article will share partition magic which is available for both 32 bit and 64 bit Windows 7 operating system.
What Can You Do on Windows 7 32 / 64 bit with Partition Magic?
As mentioned above, you can resolve problems above on Windows 7 32 bit or 64 bit by using partition magic tool when there is not enough free space on any partition. Generally speaking, you can rely on a partition manger tool on Windows 7 to perform following tasks:
1. You can use a partition manager to extend volume on Windows 7 whether it is 32 or 64 bit. Usually, you can extend system partition or data volume on 32 bit and 64 bit Windows operating system by relying on a partition tool.
2. You can use partition software for Windows 7 to delete a partition. What you should pay attention to is that the data on the deleted partition will be lost, so please think it twice or make a backup before deleting any partition.
3. You can move partition on Windows 7 32 and 64 bit by partition magic software. It is important to move partition when you want to extend partition. When you want to extend any volume on Windows 7, you have to move the unallocated space close to the partition you want to extend so that you can add the unallocated space to the partition you need to expand.
Windows 7 32 / 64 Bit Disk Management
The Disk Management tool on Windows 7 has the similar function to the professional partition software, so you can open Windows 7 Disk Management when you want to reallocate disk space to resolve problem on Windows 7 32 or 64 bit system. Without relying on partition software, you can resize hard drive on Windows 7 with Disk Management by shrinking partition, extend partition, create new partition, delete partition and format partition, etc.
Windows 7 32 and 64 bit Partition Manager Download Free
If you need a partition manger for both 64 bit and 32 bit of Windows 7, you can use IM-Magic Partition Resizer Free. It is a freeware that is compatible with Windows 7 operating system that runs 32 bit or 64 bit, so you can use it to redistribute disk space to fix low disk space problem or perform some other tasks. This partition software for Windows 7 32 and 64 bit has following features: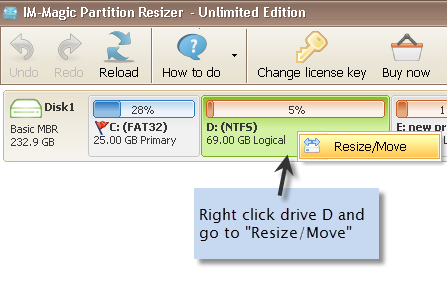 Download IM-Magic Partition Resizer Free Edition