Table of Contents
Why we should partition hard disk?
Partitioning a hard disk is nothing but dividing your single hard disk in different logical drives. There are many advantages of having disk partitioned into parts. One good advantage is you keep your personal data on different drive and make them safe if your Operating system crashes.
When you partition your hard disk, you separate them by giving different logical names like C,D,E,F. These logical names are called drives. These drives are independent of each other.
Advantages of partitioning a hard disk
By having more than one drive your computer performance is increased as the computer reads data from the known drive and does not read the whole hard disk. This saves reading time.
You manage your data in a better way. You keep one drive for Operating system and software, other drives for your personal and office files. This saves your time when you search something.
Your drives are independent. You can easily format one drive without disturbing the other. You can also move your data to other drive and do the formatting.
Your personal data is always safe if there is any issue with the operating system and requires reinstallation.
You may use the other for a different Operating system. You can install Unix/Linux or any Operating system on different drive without affecting the files on other partitions.
Disk partition tool windows server 2008
You can partition the hard disk when you are installing your Windows Server 2008 Operating System. Using Windows server 2008 Disk Management tool you can very well partition your disk after you have installed your operating system. You can see your drives, their capacity, logical and primary partitions. If you want to do other than partitioning, you use this Windows built-in disk management tool. The tool helps you in formatting, partitioning,extending and shrinking your drive.
Built-in disk manage tool on Windows server 2008
The built-in Windows disk management tool is not enough to perform most of the activities and not simple to use. And if it is a Windows server, it becomes the job of expertise and you never want to do the disk related activities yourself.
Best partition tool windows server 2008
There are many good third party partition tools available. These tools are designed keeping every type users in mind so that a naive user can also perform these tasks with ease. One of the tool is IM-Magic Partition Resizer SERVER edition.

IM-Magic Partition Resizer SERVER edition:
This tool is the best tool that you can use for doing any disk resizing activity. This tool is specifically designed for Windows server 2008. There are other editions available as well like free and professional. But if you want to use this for your Windows server 2008, you need to buy the server edition. You can even try for free. The server edition is fast and capable to do more things for you.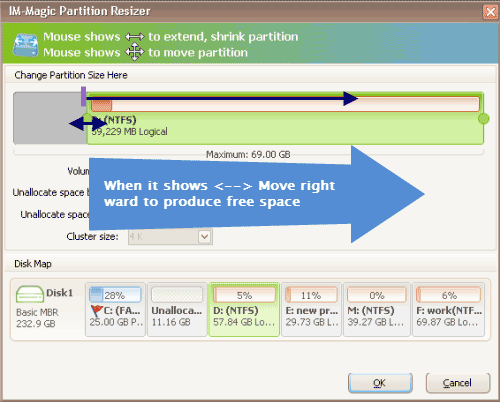 Extend partition with partition manage tool
IM-Magic Partition Resizer SERVER edition helps you in partitioning, expanding, shrinking and merging. With this software you can even extend your drive when the extend option is disabled for the drive. By moving the unallocated space by our muse you can extend the drives. Your data is untouched when any of the activity is performed. One of the best feature that is has is roll-back data protection which keeps your data safe even if the system crashes or shuts down in between the resizing activity.
[Guide] Steps to extend volume without data loss
This step by step guide will show you the right way to extend any volume using  IM-Magic Partition Resizer Unlimited edition.
Step-1  Download install, and launch the program.
Step-2 Right click the large volume to produce unallocated free space.

Steps to resize your disk partition
Step-3  Then right click c and drag the border to acquire the free space.

Steps to resize your disk partition
Step-4 Apply the changes.
To learn more IM-Magic Partition Resizer SERVER edition: