Summary
If you want to manage your partition easily, and make it work better for you, this article will show you how to reallocated disk space and better manage your disk partitions for totally free.
Table of Contents
Introduction
Have you ever been faced with a situation where your partitioned c drive is full and cannot take another installation? While its twin, d-drive, which does not store your apps, but your data, is larger and has got more space. And you would very much wish to be able to "re-allocate" more space from one drive to the other without spending a dime? You have come to the right place. This article will show you how to allocate using the Windows-enabled features and using the IM-Magic free edition.
Windows provides three ways for you to reallocate storage from one drive to another. Before you start to reallocate space, it is important that you are well-informed. This is because any mistake made could make you lose vital information on that drive.
How to reallocate space using Windows enabled features on Windows 10
1.The Disk Management menu on Windows 10 is an ideal way. Start by opening the start menu-control panel-disk management. Or just search for disk management from the start menu. This option allows you to move freed up space from one drive to another on one disk. With this, you do not lose any information. BUT, you run the risk of having your drive greyed out. This is because the allocated space, on most occasions, is not recognised by the system.
2.The second method is through the DiskPart command prompt on Windows 10. The downside of using this feature is that the selected drive is usually not extended.
3.With this last feature, you will need to back up data on another storage device. After which, you open the disk management and delete the Windows 10 partition. Before moving free space to the drive in need of one. Rename the drive and then format it. After which you can re-install your data from the backup.
With that said, there is a third-party tool that allows you to reallocate your storage easily, without any loss of data and it comes for free.
How to reallocate disk space for free Using IM-Magic Free Edition
1.Find the drive that has extra storage. Once found, shrink it to get the extras out.
2.Move the freed up space to the drive that needs it. This you can do by safely moving other partitions
3.After moving the free space, expand the drive from which space was added.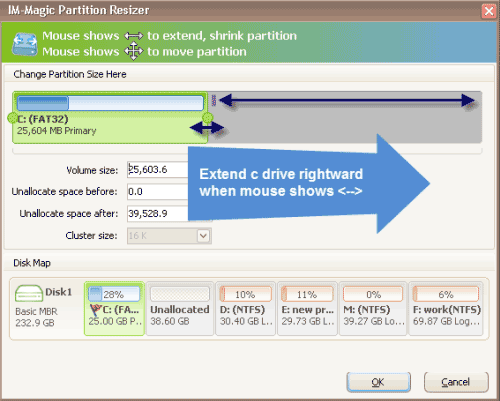 Extend partition with partition freeware
Benefits of IM-Magic Partition Resizer Tool Kit.
The IM-Magic Partition Resizer is a free software that helps you reallocate your storage space from one drive to another. It comes with several benefits
1.It is compatible with all windows versions. Meaning that it can be used on your Windows 10 computer.
2.It comes completely free of charge.
3.An important part about it is that you can use it to reallocate storage space from one drive to another without you losing data
4.It is easy to use. With only the click of your mouse, you can partition your disk easily.
5.You don't experience greyed out on your drive as your drive is not corrupted.
6.It is completely reliable. You can be assured that it will do its job 100% without encountering bugs.
In ensuring that your drive space is increased, you need to consider that the option you choose is completely reliable, safe and secure. And with IM-Magic, you are getting the best performance for free.