Summary
Want to resize the hard drive without formatting in Windows? Here you can free to repartition hard drive with the best solutions.
Is there freeware to repartition the hard drive without formatting
One of the most incredible revolutions Windows ever delivered to its billion of users are Windows 7, 8.1 and at the end Windows 10. But like any other system, the complications and errors can arise here as well. For starters a specific drive or partition C run out of space.
Due to the reason you'll no longer be able to store your precious data over these partitions unless you get to extend the size of the drive or partition who currently don't have any free space left.
How common this problem is
If you were wondering that you are alone to deal with such explicit problem, then think again. On average about million of users are going through something similar, either they want to extend, shrink or merge various partitions. But they can't find the appropriate partition manage tool to do so.
This problem can arise anytime regardless of the operating system or infrastructure you are using. Even the Server room operators go through something similar all the time. The next question which arise in your mind is that whether you can rectify this bizarre problem or not?
If you rely on other tools such as Windows "Disk Management" or CMD then it is a no, but if you seek help from our master disk management tool then sure it can happen rather flawlessly.
Repartition Hard Drive with CMD and Disk Management
Windows has provided its users with these incredible tools, to rectify any issue regarding the Disk Operations. But it is easier being said than done. Both of these tools require administrative privileges to complete the needed action. And most of the time, they can't help with anything. Or if by some luck you get to repartition hard drive. Then all of your data is at stake to be destroyed completely in the process or get damaged, either way there is no sound method to recover your data as a whole and without any possible errors.
Resize Partition with IM-Magic Partition Resizer Freeware Edition
Our amazing product the IM-Magic Partition Resizer Freeware Edition is the most unique and well-acquainted disk operation tool which can perform any disk operation without any flaws. It can create, delete, merge, shrink, extend or repartition the whole drive or selected partitions.
There will be no chance of any data loss and all your important files and applications will be right there where you left them. It does not allow any third-party tools and services to interfere with the Disk Operation you are about to perform that is why no data shall be lost during the process.
This amazing tool is compatible with almost every known version of the Windows including Windows 10/8.1/7 as well. It can handle even a complex set of directions like to create and merge partitions at the same time, or to extend and shrink various partitions at the same time.

Instructions to repartition the Hard drive
It is very easy and straightforward process to repartition your hard drive according to your own preference using our incredible product IM-Magic Partition Resizer Freeware Edition. Without further ado let us consider how this operation works;
1.Launch the IM-Magic Partition Resizer Freeware Edition and wait for it to load the disk map.
2.Once all the available drives along with partitions are present, choose which one to alter and right click over it, then choose "Move/Resize" partition.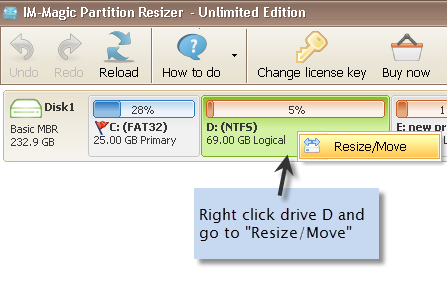 Resize partition with IM-Magic Partition Resizer
3.A new window shall open select what you want to do by moving the cursor in right or left direction.
4.Right means to extend and left means to shrink the drive, let go when a specific limit has been reached.
Steps to resize your partition when you can not extend volume
5.Now, allow the IM-Magic Partition Resizer Freeware Edition to complete the disk operation by clicking "Yes", it will then extend, merge or shrink the partitions according to the action you selected.
6.Now click on "Save Changes" button and close the tool.
Your hard drive has been successfully repartitioned and all the data is still secure. If you want to download IM-Magic Partition Resizer Freeware Edition or browse other informational content, please visit our website;