Resize Disk Partition Windows SBS 2003
Summary
This page will share step-by-step instruction on how to resize SBS 2003 disk partition and extend C partition with specialized and useful partition magic software.

SBS 2003 Partition Resizer Download
Download IM-Magic Partition Resizer Server to resize disk partition and extend system partition on Windows SBS 2003 Server effectively and efficiently.
IM-Magic Partition Resizer Software for SBS 2003 Resizing Partition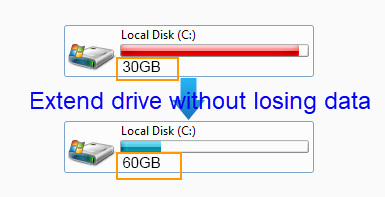 Lots of SBS 2003 Server users have a demand for a partition manager to resize disk partition. If you want to resize a disk partition on SBS 2003, IM-Magic Partition Resizer Server is able to extend or shrink a disk partition effectively and efficiently. This partition software works as partition magic to help all Windows Server users resize any kind of hard disk partition including NTFS partition and FAT32 partition. This partition software supports to resize C partition (system partition) and other partitions (data partition).

Download IM-Magic Partition Resizer Server for all Windows Server OS.

How to Resize Disk Partition SBS 2003?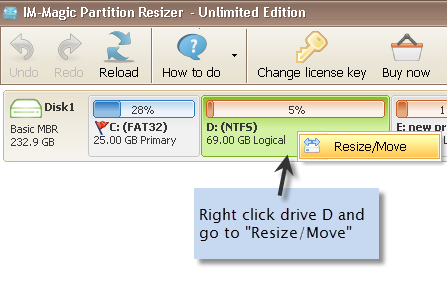 How to redistribute disk space in Windows Server 2003
Step 1:
Download, install and run IM-Magic Partition Resizer on your computer. Firstly you need to choose a large partition. Right click this partition and choose "Resize/Move" option.
Step 2:
You can move the arrow from right to left or from left to right to shrink the selected partition. You can see a free volume after shrinking, which will be shown as an unallocated volume.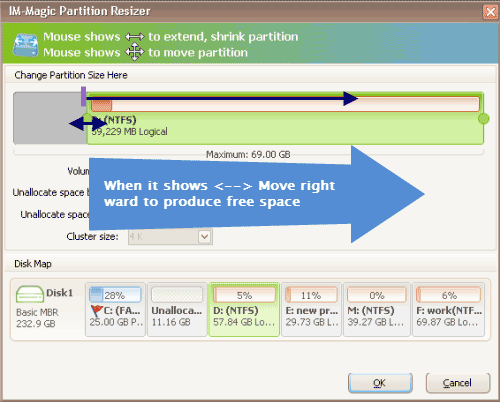 Shrink other large partition to produce free space for C drive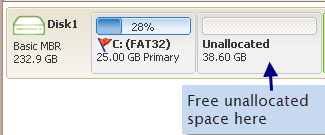 Step 3:
Move the unallocated volume close to the partition you want to extend and right click this partition. Then go to "Resize/Move" option.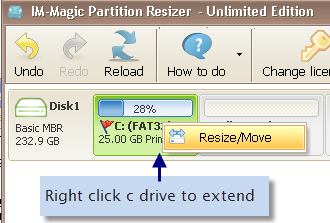 Right click c drive to get started with extending c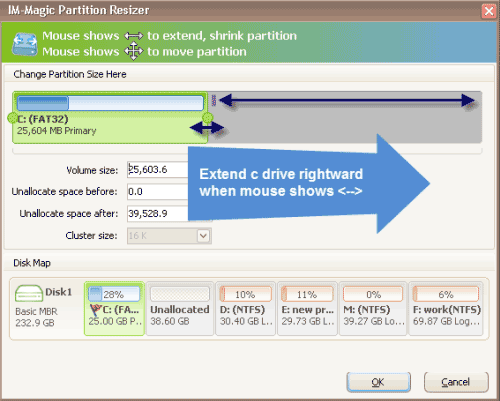 Step 4:
Move the arrow to increase the size of the selected partition and click "OK" button. Then click "Apply" to get the partition extended.
Download IM-Magic Partition Resizer Server Edition


SBS 2003 C Partition Low Disk Space Is Not an insignificant Problem
SBS 2003, as a version of Windows Server operating system, has many distinctive functions, so it is often welcomed by users, especially small business company users. C partition, as a different partition on a computer, often contains all system related programs and files, so it is often quite important on a Server OS. Now, if the C partition is running out of disk space on Server SBS 2003 operating system, it is not a trivial problem because you never what kind of disaster it will cause to your computer when C partition is running on low disk space. For example:
Low disk space on C partition may cause system crash
C partition low space may lead your computer to run more and more slowly day by day
C partition low disk space may even cause blue screen or black screen on your computer
Extend C Partition Windows SBS 2003
Since low disk space on C drive on SBS 2003 is not an insignificant problem, the earlier you can solve this problem, the less trouble it may cause to your computer. The most effective way to resolve C partition low disks space problem is to extend its size. IM-Magic Partition Resizer Server allows you to extend a C partition on Windows Server SBS 2003 quite easily and efficiently. This software doesn't occupy much resource or disk space, so it won't have any influence on your computer by using this partition software.
Resize Disk Partition on SBS 2003 as You Wish
Without any limitation, you can resize SBS 2003 disk partition with this partition software at any time or in any situation as you wish. The only requirement is that there is free disk space on the same hard disk. You can resize a system partition and data partition without moving or deleting any data from the hard disk. You also don't need to repartition the hard disk in order to resize the disk partition. IM-Magic Partition Resizer Server is efficiently because it enables you to resize disk partition within several steps without rebooting the computer or reformatting the disk partition.
What If System Break Down during Resizing?
Firstly, we can make 100% guarantee that IM-Magic Partition Resizer Server won't cause system crash whether before resizing or during resizing, so you can completely rely on this partition software. However, your computer may break down during to other reasons. For example, before system partition resizing is completed, C partition is still running on low disk space. If your computer breaks down due to low disk space on C partition during the resizing, your computer may stop working normally or even shut down automatically. Anyway, if your computer turns off in the resizing process with any reason, there is no influence on the partition resizing. You just need to reboot the computer and resize disk partition again.

Pay attention:
IM-Magic Partition Resizer Server won't cause system crash or any other trouble to your computer, but it doesn't mean it can protect your computer from running into disaster due to other reasons. What we can ensure is that IM-Magic Partition Resizer Server won't crash your system or touch any disk data during the resizing.

For Windows Server all versions ==> Download IM-Magic Partition Resizer Server

More Related Articles You May Like
Copyright © 2017 IM-Magic Inc. All rights reserved. Windows® is trademark of Microsoft Inc., and Partition Magic® is trademark of Symantec Inc registered in the U.S. and other countries . IM-Magic's software is not developed by or affiliated with Microsoft nor Symantec Inc.