Why you need to resize partitions on sbs 2008
Learning how to resize partition sbs 2008 r2 is a very important thing if you use this operating system. It's always important to avoid situations when the hard drive is space and it becomes full. Which is why it makes a lot of sense to extend the C drive the best way that you can. With the right approach you can resize resize partition sbs 2008 fast and easy.
How can you resize partition sbs 2008?
The first thing you want to do is to check the disk partition layout in the server storage and disk management. You have to figure out how the system works and based on that you will be able to enjoy it in no time. The thing to realize here is that you can resize partition sbs 2008 r2 fast as long as you have enough space. But most of the time you will have to click on the desired partition and extend it. Which may not exactly work the way you want, try to keep that in mind. It's a wonderful opportunity to consider and one that can pay off quite well in the end. If it works. But even so, you might have to reinstall the operating system and back up your current files. That on its own can be a ton of work, so you might as well want to avoid it as much as possible.
Do you have any alternative to resize partition Windows Server 2008 r2?
There are many things that you need to do in order to adapt and adjust this to suit your needs. It can be hard to resize system c partition sbs 2008 without formatting, but IM-Magic Partition Resizer Server Edition is here to help.

What you can do with this app is to choose what partition you want to enlarge and then you can select the amount of space you want to add. You can take the extra space from the current free space or you can take it from another partition if you want, so try to consider it. These are all great solutions and they can offer you rewarding results in no time.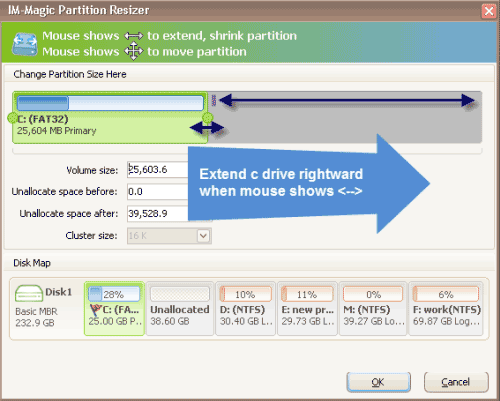 Resize partitions with IM-Magic Partition Resizer
With IM-Magic Partition Resizer Server Edition, you will have no problem resizing the partition fast and easy. The app is very reliable, professional and it can do wonders if you do it the right way!
[Guide] Steps to extend volume without data loss
This step by step guide will show you the right way to extend any volume using  IM-Magic Partition Resizer Unlimited edition.
Step-1  Download install, and launch the program.
Step-2 Right click the large volume to produce unallocated free space.

Steps to resize your disk partition
Step-3  Then right click c and drag the border to acquire the free space.

Steps to resize your disk partition
Step-4 Apply the changes.