Summary
Better management on disk partitions can make system run more smoothly, how to resize partition on Windows for free? You can find answer at this article.
Table of Contents
Why We Need to Resize Partition
Some Windows users don't manage the disk partition, after using their PC for some time, they will find its running process get slower and slower, and even get the low disk space warning from system. That may cause much inconvenience to our work, how to avoid it?
Yes, you need to resize your partition. Deleting some files on the C drive can also help, but sometimes you may mistakenly delete some important files. So, resizing disk partition can be a better choice.
Resize Partition with System Tool on Windows 7
Windows system has its own Disk Management tool, you can manage your disk partition at Disk Management module under Computer Manage option. Find your drive need to be resized, right-click it and choose to extend volume or shrink volume. The disadvantage of Disk Management is that it is hard to operate, and it may cause you data loss problem, you need to be careful when you use it.
Resize partitions with disk management tool
Resize Partition on Windows with Partition Resize Freeware
There is another way you can try for free---- Partition Resize Freeware. I will recommend IM-Magic-Partition Resizer free, it's a professional disk partition manage freeware. There are many useful functions at this program, like resizing partition, wiping partition, copying partition,converting disk type, etc. It is safe and effective and worth a try.
If you are Windows users, you can free download here:

Free to Extend Partition on Windows 7
Step 1: Run IM-Magic-Partition Resizer free on your computer, you will see a list of your disk partitions.
Step 2: Find your partition which need to be resized, right click it, and choose "resize/move partition", then you can drag the mouse to extend or shrink the partition.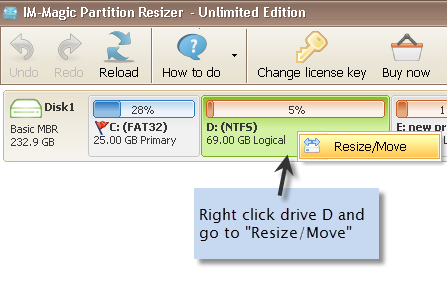 Resize partitions on Windows 7/8/10 with freeware
Step 3: Apply the changes.
Then your partition can be resized.
There are many other functions you may need, like formatting partition, copying partition, wiping partition, merging partition, etc.

This free edition is for Windows 7/8/10/XP/Vista, IM-Magic-Partition Resizer also has Server edition, which is free for trail, you can free download here.