Summary
If you want to manage your disk partition and make it work better, you come to the right place. This article will show you different ways to resize partition on Windows 7 for free.
Why Do You Need to Change Partition Size on Windows 7
If you have been using your computer for a long time, you will find that your computer is running slower and slower. And if you don't manage your disk partition, all your data will be put together in a mess, if you want to find some files someday, you will realize how hard it will be.
Resizing disk partition is a wise choice for you if you have a lot of work files need to be stored on your computer, you can extend one partition which need more space, and shrink a partition has more free space.
Resizing disk partition can highly improve your work efficiency, you can find your files quickly. And your computer will also work better after you resize the partition.
So why not have a try.
How to Extend C Drive in Windows Using Disk Management Tool
For Windows users, you can try Windows built-in disk management tool to resize your partitions, which is very useful and free. But for some users of Windows 10, this disk management tool does not exist. You can try another way.
Steps to resize partitions:
Step1: Right-click computer, click "manage"option, choose "Disk Management".
Resize partition with disk management tool in Windows 7
Step2: Right-click C drive, choose "Extend Volume". You can also choose another drive partition which you need to extend.
Change partition size in Windows 7
Step3: Select the unallocated partition space, confirm and click"finish"option.
Extend partition Win7
Then you extend your C drive by resize other unallocated drive partitions.
While some Windows system may not have "Extend Partition"option, you can also try another solution as follows.
How to Extend C Drive Resize Partition in Windows without Formatting Free
I would like to recommend a nice partition manage software to you. IM-Magic Partition Resizer Free Edition is a 100% safe freeware which can extend partitions for you easily, it can extend, shrink your partition in a best way.

Resize partitions on Windows 7/8/10/vista/XP
Step1: Start the software and select the drive you want to extend.
Step2: Right-click the drive partition and choose "Resize/Move Partition"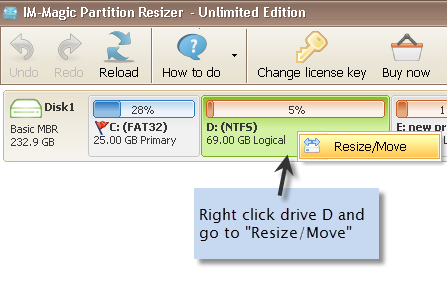 Extend partitions on Windows 7/8/10/vista/XP
Then you can extend the drive partition by dragging the mouse.
I will show you the steps on a difficult situation, and you will know how to make it for other situations.
Step1:For example, if you want to emerge C drive and H drive, right-click the C drive, choose "Merge Partition".
Resize partition for Windows 7/8/10
Resize partition for Windows 7/8/10
Step2:Choose the partitions you want to merge, choose C and H drive, and set the location to save all the partition, you can choose C.
Resize partition for Windows 7/8/10
Step3: Apply the changes. Confirm the performance on your disk partitions.
Resize partition for Windows 7/8/10