Table of Contents
SBS 2011 Cannot Extend Volume Problems
Windows Small Business Server (SBS) 2011 is one of the best operating systems out there to accomplish business tasks effectively. SBS features quite a new updates and features that make it stand out to other traditional operating systems. However, these updates and added features start to consume more and more space after some time.
In simple words, disk space problems are common in almost all version of Windows SBS. The most accurate solution to combat the disk space issues is to extend the system partition by adding some unallocated space out of data partitions. Many of our users complained that SBS 2011 cannot extend volume and they can't find an authentic method to do it.
System Volume Space Issues in SBS 2011
Before trying to extend c-partition, it is recommended to perform various disk cleanup utilities that may free some space from c-drive. Because sometimes the system can also show the "full disk space " error due to a faulty empty folder, virus, or an error caused by a program. To check your system for these problems, you can take help from the following system utilities
Disk Cleanup: Using disk cleanup option is the easiest yet best way to extend the partition to some extent. Simply open the "Explorer" and right-click on the "C-drive". From the drop-down menu, click on "Properties". Later, click on "Disk Cleanup" and complete the setup. It's that simple
Deleting Temporary Files: This is simple, press window+R. A search box at the bottom left side of the screen will appear. Type "%temp%" in the field and press enter. A new folder with a list of temporary files will appear. Select all these files and delete them. These files may consume GBs of data. Note that deleting these files cannot harm your computer.
SBS 2011 Cannot Extend Volume
Extending partition is certainly a critical procedure especially when you do this within the computer – without using any third-party disk management software. Disk Management is a built-in program in SBS 2011 that allows you to manage storage space of all the partitions on your computer. However, it includes a lot of risks of losing data, damaging partition, or crashing data. All you can do is open the SBS 2011 dashboard and examine the data partition with a lot of free space.
Extend Partition with IM-Magic Server Edition
Using a third-party disk management software is the best solution to extend the volume on your system partition. IM-Magic is one of the best partition resizers that allows its users to shrink, extend, resize, create, delete, format, and extend partitions within minutes. It offers a user-friendly interface specially designed for a newbie as well as experts.

Install the IM-Magic Server Edition on your computer and you will be able to add unallocated space from a data partition to the system partition.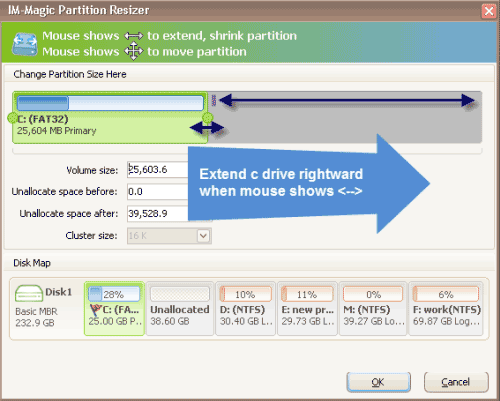 Resize partitions with IM-Magic Partition Resizer
If the problem remains, and you are unable to find a data partition with plenty of space. You have outgrown your storage needs and it's time to add another hard disk to the system or find a bigger one. In case of further questions or suggestions, feel free to leave a reply below.
[Guide] Steps to extend volume without data loss
This step by step guide will show you the right way to extend any volume using  IM-Magic Partition Resizer Unlimited edition.
Step-1  Download install, and launch the program.
Step-2 Right click the large volume to produce unallocated free space.

Steps to resize your disk partition
Step-3  Then right click c and drag the border to acquire the free space.

Steps to resize your disk partition
Step-4 Apply the changes.