Table of Contents
What is Windows SBS 2011?
Windows Small Business Server or (SBS) is an integrated server suite initially designed by Microsoft Windows for running network infrastructure of small and mid-size business which critically have no more than 25 users or 50 devices at most.
Space Problems Regarding SBS 2011
There may gather many problems even in managing and calibrating a small server infrastructure. Running out of space is one of the significant issues faced by people using SBS 2011. Because your whole business depends upon this small server system and running out of space ultimately is a dead end.
Extend disk partition with IM-Magic Partition Resizer Server Edition
But with this magic tool on your side, it's time to turn the table around. This tool is mainly designed to process SERVER based operations and help you carry on your job. This incredible tool can handle many transactions regarding disk cleanup, extend partition, resize, merge or move partitions.
IM-Magic Partition Resizer SERVER edition works like magic to redistribute server partition space without touching a single file. This magic partition resizer works with almost every Windows Server Operating system like 2003, 2008, 2011 SBS and many more.

This easy guide will help you through all the necessary steps to clean up disks regarding SBS 2011 server.
[Guide] Steps to extend volume without data loss

This step by step guide will show you the right way to extend any volume using  IM-Magic Partition Resizer Unlimited edition.
Step-1  Download install, and launch the program.
Step-2 Right click the large volume to produce unallocated free space.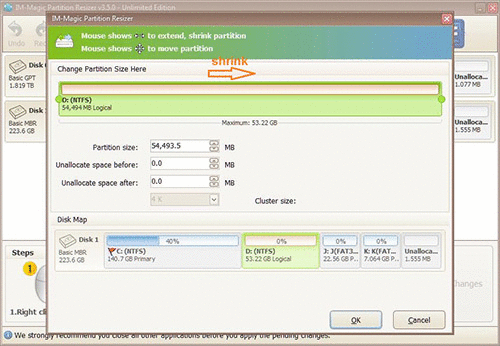 Steps to resize your disk partition
Step-3  Then right click c and drag the border to acquire the free space.

Steps to resize your disk partition
Step-4 Apply the changes.

SBS 2011 Log Files Cleanup
This is another tactic for SBS 2011 free up disk space, as IM-Magic Partition SERVER edition will scan the log or junk files, which are no longer operational and free up disk space for you. There are following procedures you can adapt to remove the log files from SBS 2011 server.
1.Delete them manually
In this function, you will have to look up every partition for yourself and erase files manually according to o your preference, whether you want them or not.
2.Uninstall junk programs
To free up some space, try considering to uninstall useless programs from the SERVER.
3.You can also choose to remove your recent history or individual cookies.
4.Use disk cleanup tool of IM-Magic partition. The stepwise guide has already been discussed.
SBS 2011 WinSxS folder cleanup
Short for Windows side by side, WinSxS is a folder in different operating systems of Windows SERVER and in SBS 2011, which stores DLL and system files for various purposes. It stores this data in large forms and as a result, the individual space of the disk vanishes slowly.
IM-Magic Partition Resizer SERVER edition is here to help, it scans the WinSxS folder and limits its activity by cleaning the data and in turn, freeing up disk space for SBS 2011 was never so easy and sophisticated as by IM-Magic Partition Resizer Server Edition.