Summary
C drive run out of space and in low disk space on server 2012 r2? Now partitions can be managed in a better way, try partition resize tool for server to extend the c drive.
C drive red and low disk space on server 2012 r2
Windows Server 2012 R2 is one of the best office-oriented operating systems with added features, a constant stream of updates, and useful tools. The hybrid cloud support, virtual machine portability, disaster recovery, offsite backup, site-to-site VPN gateway, and a lot more efficient features make it stand out to most operating systems out there. The only downside of the server 2012 R2 is the low disk space problems.
Low disk space problems in the Windows Server 2012 R2 were mostly found in the system partition – thus c drive. If you're using server 2012 R2, there are greater chances that you have already encountered a red c drive.
Server 2012 C Drive Red Low Disk Space
As compared to data partitions, c drive is most likely to suddenly become red and showing low disk space dialogue. Why is the c drive running out of space? Well, it can occur due to several reasons. The main reason for low disk space issue on the server 2012 R2 is the automated updating system. The updated programs start to consume more and more GBs that leads to low disk space. Therefore, you need to free up disk space as soon as possible.
Free Up Disk Space Windows Server 2012 R2
Apply the following solutions and you may be able to free a considerate amount of space from the disk partitions.
Delete temporary files: Type Windows+R, then type %temp% and then press OK. Delete of the files appearing in the new window. Note that deleting they are temporary files generated by system and application programs and deleting them cannot harm your computer.
Disk Clean-up Utility: Open the windows explorer and right click on the partition that is running out of space. Click on Disk Cleanup and complete the process to free up disk space.
Empty Recycle Bin: When was the last time you emptied the recycle bin? That was a long time ago, right? If so, the recycle bin may contain GBs of data.
Extend C Drive with partition resize tool
Using a third-party disk partition manage software is certainly the best way to extend c-drive within minutes. IM-Magic Partition Resizer is one of the best software that allows its users to create, delete, shrink, extend, resize, and format disk partitions with 100% data security. Follow the below steps to extend c drive using IM-Magic Partition Resizer
Download, install and open the IM-Magic Partition Resizer Server Edition
Right click on the partition with enough space to shrink and separate unallocated space. Click on "Resize" from the dropdown menu.
Drag the mouse to the left to shrink the volume and press OK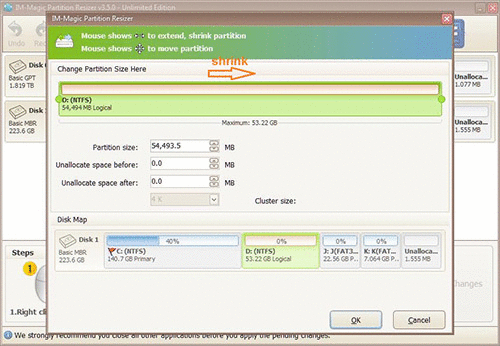 Steps to resize c drive space in Windows server
The shrinking space will be grayed out and called unallocated space
If there is another partition between unallocated space and c-drive. Repeat the process and keep dragging the grayed-out space to the left until it becomes adjacent to c-drive
Right click on the c-drive and acquire the grayed-out space.
Steps to resize c drive space in Windows server
The advanced mechanism of IM-Magic partition resizer provides 100% data security. All the system and application programs remain untouched during all these operations. IM-Magic comes in four different versions i.e. free, professional, server, and unlimited edition. Learn more here.