Windows SBS Running Out of Space on C Drive – How to Increase Space for C Drive SBS 2003/2008/2012
Summary
This guide is about resizing disk space for Windows Server 2003 on c drive with server repartition software - IM-Magic Partition Resizer Server Edition.It also works for Windows Server 2008 SBS, Server 2012 SBS and R2.

Download IM-Magic Partition Resizer Server to expand server 2003 sbs to increase the size of Windows server boot volume.
SBS 2003 Running Out of Space - What shall we do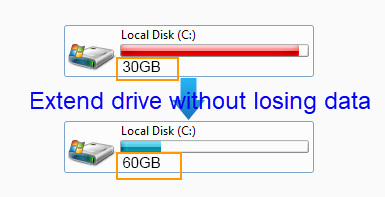 Imagining: you enter an empty room that has nothing inside. The first day, you put several chairs, a bed and a table in this room. Then, you continue putting some followers, furniture and more other things in this room. Day after day, the room will become full and you cannot put even one thing inside. What will you do? You may throw away some old furniture, but the room will become full soon when you put some other things inside. At this time, you may think, if the room can become larger, you are able to put more things to this room without throwing away anything.
In fact, a disk partition like C drive on your Server SBS 2003 works in the same way. The more files you stored to a C drive the less free space it will have until it will be eaten up completely one day. At this moment, you also need to increase the size of C drive so that you can save more data.

Produce Free Space for C Drive SBS 2003 with IM-Magic Partition Resizer Server
If you want to increase size of C drive on SBS 2003, you must make sure there is enough free disk space on other partitions. Then you can use IM-Magic Partition Resizer Server to add free space on C drive easily. This software allows you to manage your disk partitions in a simple way. You can produce an unallocated volume by shrinking other partitions that has enough free disk space and then allocate the unallocated volume to C drive to get C drive expanded. It sounds complex, but you will find it quite easy to handle by following the steps below.
Steps for C Drive Resizing on SBS 2003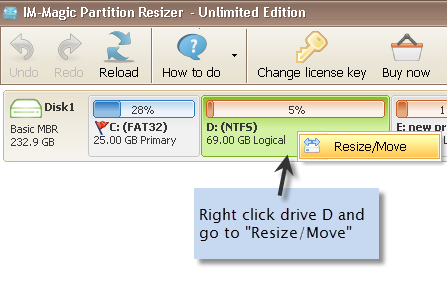 How to redistribute disk space in Windows Server 2003
Step 1:
Run IM-Magic Partition Resizer Server after installing it on your computer. Right click a partition that has enough free disk space and select "Resize/Move" option.
Step 2:
Shrink the selected partition by moving the arrow. The free disk space will be shown as an unallocated volume.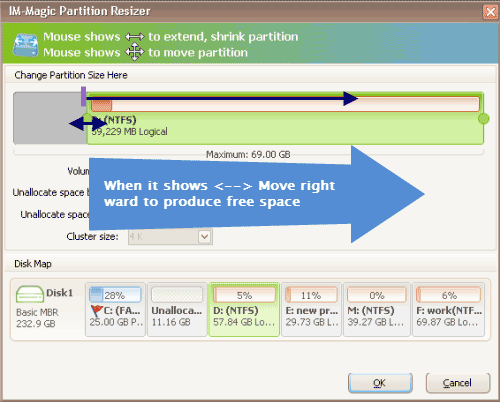 Shrink other large partition to produce free space for C drive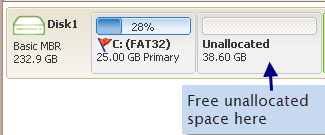 Step 3:
Move the unallocated volume close to C drive. Right click C drive and choose "Resize/Move" option.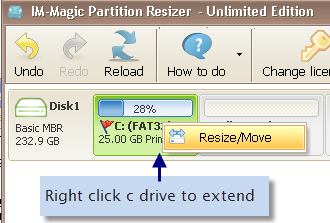 Right click c drive to get started with extending c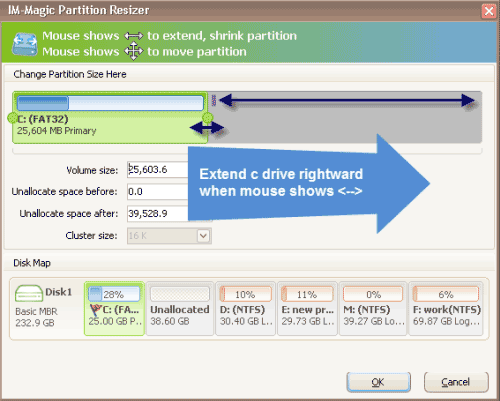 Step 4:
Move the arrow to enlarge the size of C drive. Click "Apply" button to get C drive extended.

Resize Partition in FAT and NTFS System without Touching Data
No any other method enables you to resize a partition without touching its original data except using professional partition resizer like IM-Magic Partition Resizer Server. As known to all, data stored on C drive is always important, which may affect the smooth running and performance of your computer. Therefore, it is always important to keep C drive data safe when resizing the C partition. This partition software also enables you to resize a disk partition without rebooting the system. Perhaps you don't think it is a big problem to reboot computer before disaster occurs. If you didn't save the important files before rebooting the computer, you may risk losing them. By using IM-Magic Partition Resizer Server, there is no need to worry about such kind of problem because it can complete the resize without rebooting your computer. In addition, the partition software allows you to increase partition size without reinstalling system.
Safe & Reliable by Using IM-Magic Partition Resizer Server
When selecting a program, people may take two factors as consideration, which are the program's function and safety. If your computer is infected with virus or spyware after installing any software, it will cause damage to your system and even cause system breakdown. IM-Magic Partition Resizer Server works perfectly on partition resizing, which can work on all Windows Server computers in addition to SBS 2003. Besides, it is also a safe program, which is risk-free.

For Windows Server all versions ==> Download IM-Magic Partition Resizer Server

More Related Articles You May Like
Copyright © 2017 IM-Magic Inc. All rights reserved. Windows® is trademark of Microsoft Inc., and Partition Magic® is trademark of Symantec Inc registered in the U.S. and other countries . IM-Magic's software is not developed by or affiliated with Microsoft nor Symantec Inc.