Table of Contents
How to resize or shrink C drive
There has been a tremendous discussion among the information technology websites, let alone Google and other search engines. People have made videos on YouTube to address this particular scenario. How to resize partition OR shrink C drive.
Let me tell you this video don't help most of the time and some of them are genuinely clickbait. So, to solve this particular disk problem, we have an incredible tool for you which is IM-Magic Partition Resizer SERVER edition. This fantastic tool can perform any disk management operation. It can resize, create, format, delete, shrink OR extend partitions in size with great ability. It just takes a few clicks to do whatever it is you want to be done.
Moving on, let us first describe various problems which are likely to occur when trying to reduce system volume size.
SERVER 2011 cannot shrink volume in Disk Management
When dealing with low space on a system, and getting that annoying error that Disk Management cannot deal with this particular operation is upsetting. There are many factors which go into play when trying to shrink C drive SBS 2011 .
Your Partition format should only be NTFS.
You should have administrative privilege to proceed.
There should not be present any virtual memory on the disk.
If the factors mentioned above correlate, you can shrink the volume in disk management. Otherwise, it is a no go.
Shrink Volume Grayed Out SBS 2011
Most of the people have only C drive as a primary partition and at the same time a boot partition. Now they are willing to have another volume so that they can transfer some of their data to another destination. When trying to shrink boot partition in disk management, they fail to do so because the shrink volume button is greyed out.
This means you don't have the necessary OR free allocated space to perform this action. And disk management also fails to supply with any affirmative action for this regard. You still want to shrink that partition and you still can't because the shrink volume action is unperformable.
Shrink Volume with IM-Magic Partition Resizer Server edition
IM-Magic partition resizer is a fully optimised tool with the ability to perform various threads regarding disk operations. If you want to resize a partition OR shrink C drive on SBS 2011, this tool can help you without any failure by following these simple steps.

1.Launch IM-Magic Partition Resizer, and wait for the program to load the disk map.
2.Once disk map is loaded, choose the disk you want to shrink in size OR resize its allocated space, Right click on the drive and select "Resize/Move" option.
3.When the Resize/Move screen appears, gently take your mouse towards the chosen drive and start shrinking the C drive by narrowing to the left edge.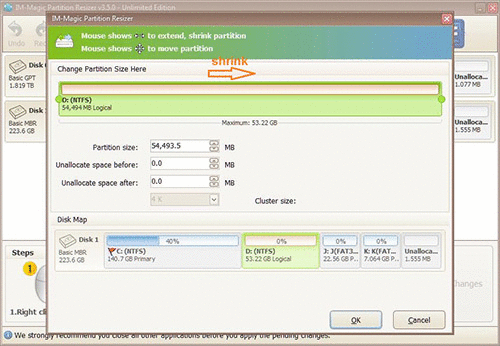 Steps to resize your disk partition
4.Once you have reached the desired space, apply the changes.
5.Your C drive has been successfully shrunken OR resized according to your desire.
These are straightforward steps offered by IM-Magic Partition Resizer SERVER edition, by which anyone can efficiently perform various disk management operations.